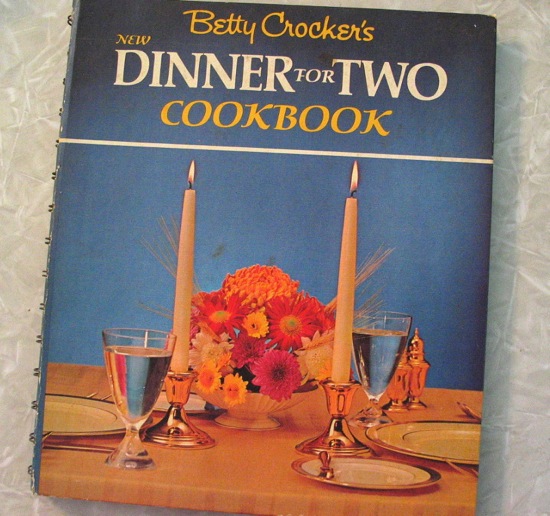 I love to cook so have a lot of cookbooks. I either picked this up at a rummage sale or from my mom. This is the 1970 edition of a recent Kitsch of the Day: Betty Crocker's NEW Dinner for Two Cookbook. Chapters include: All-American Favorites (including Regional and Seasonal favorites), When Company Comes (Little Dinners for Saturday Night, Holiday Dinners, and Outdoor Entertaining plus others), Hurry-Up Dinners, Frankly Thrifty, and So You're Back To Two.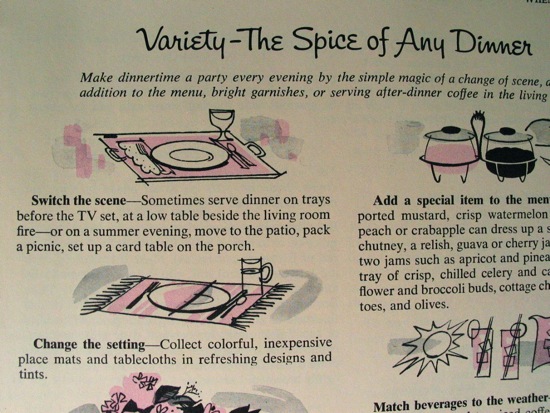 There are still great graphics (my favorites are the ones illustrating the main ingredients of the recipes on that page). This page features Roast Beef, Hot Rolls, Browned Potatoes, Tomato Vinaigrette (the last three being juggled by the steer, of course!), and Brownies: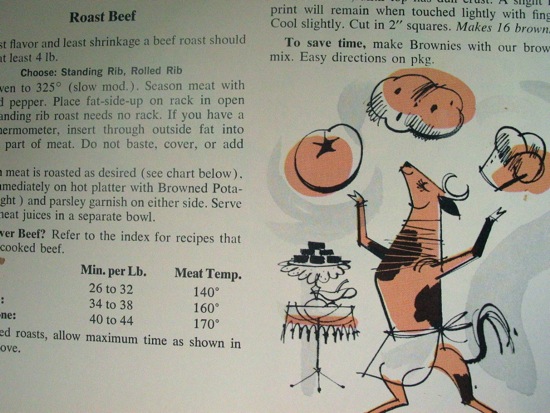 Anyone for Duck en Casserole?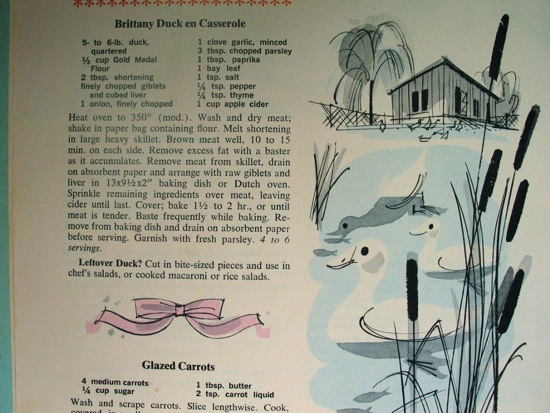 Perhaps you would prefer Curry, served up by the General Mills version of an Indian Goddess?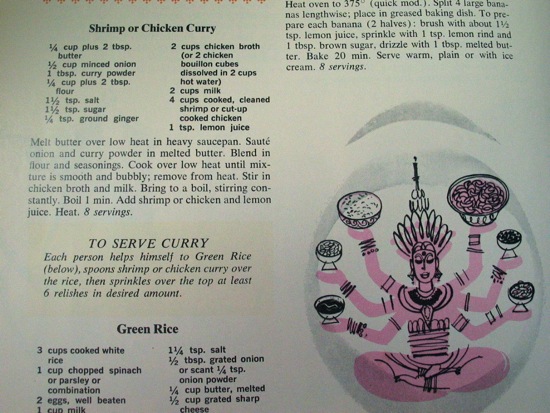 I think the Stewed Chicken is my favorite.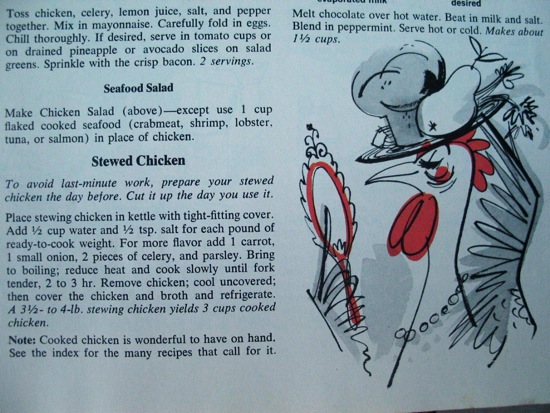 Or maybe Chicken Caruso: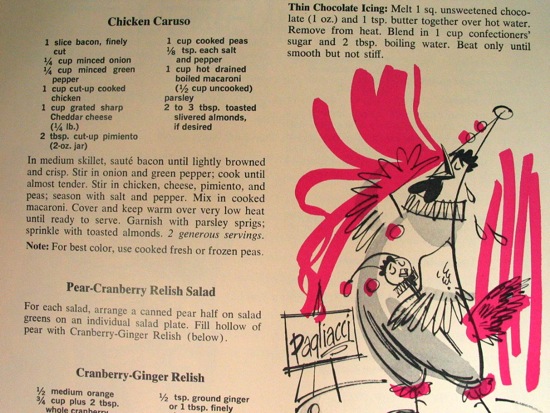 Supplementing the great graphics are a number of photos of "tablescapes" – some more appetizing than others. I think there are pork chops under these red blobs…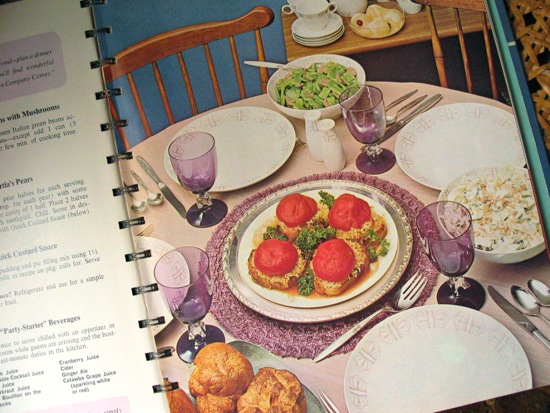 Shrimp Creole?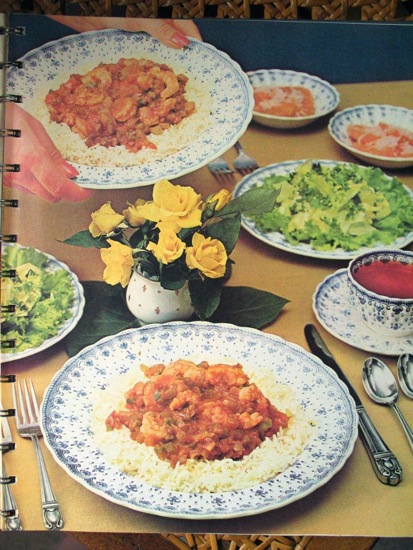 I think this is supposed to be Beef / Hamburger Stroganoff (though it looks like something else, much more unpleasant)…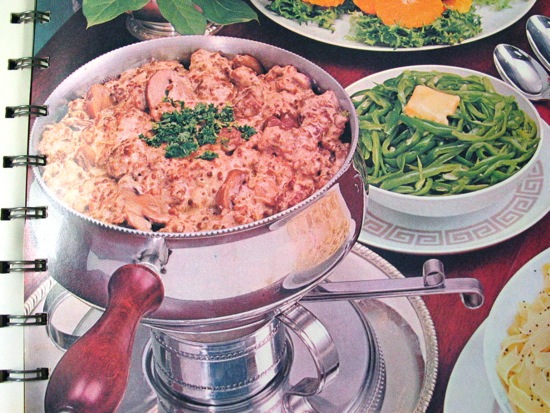 How about a homemade TV Dinner!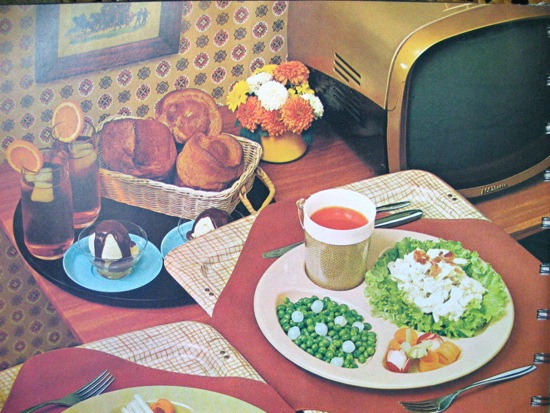 Can't forget the Jellied Chicken…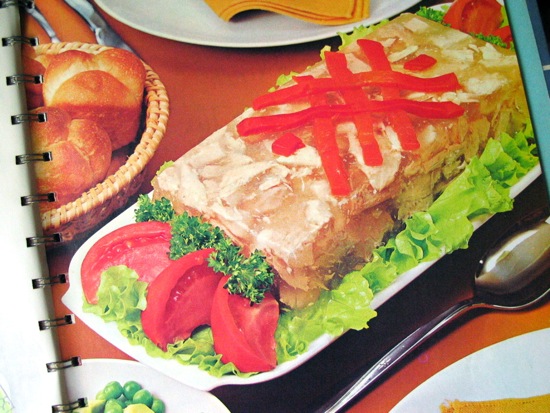 And of course, the pièce de résistance, the updated recipe for Prune Whip, served with Cheeseburger Broiled Dinner: