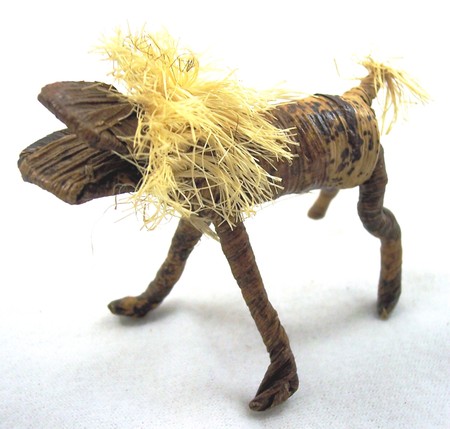 I buy these from Kwaze-Kwasa, an online store that sells crafts from Sub-Sarahan Africa to raise money for AIDs and poverty blighted communities there. I love the toys' whimsy and detail. (The craftspeople distinguish between the fruit fly and the house fly.) The toys are made by wrapping banana fiber and other natural vegetation around a wire frame, sometimes adding seeds for eyes. They cost $5-10 each, and have lots of personality.
(catalogue description): Pictured is a hand crafted lion. This lead-free East African banana fiber and sisal decoration or toy from Kenya and Uganda, East Africa makes an interesting gift for the toy collector or a child's toy. Banana fiber tightly wrapped on a wire frame forms the lion. The detail of the finished animal is very creative and unique to these Kenyan artists. The natural vegetable fiber animal is an environmentally friendly decoration or (lead-free) toy made from natural sustainable materials that sells for more than $15 in USA organic (natural product) and home décor stores! We are able to offer them at moderate prices by contracting directly with the crafters at fair trade prices.The photograph is generic as no two lions are identical being crafted by hand from natural vegetation fiber that varies in color. However, we guarantee you will be satisfied with your purchase!
Welcome to Kwaze-Kwasa [USA] Inc.
This online store is dedicated to the impoverished AIDS-impacted communities in Sub-Saharan Africa.
As the outlet for more than 200 people in impoverished circumstances or communities, every purchase made provides sustainable employment and income.
All products are made under fair trade contracts and every worker receives a livable wage above local market rates.
100% of total net profits are returned to the same communities for their non-government grassroots AIDS orphan programs.