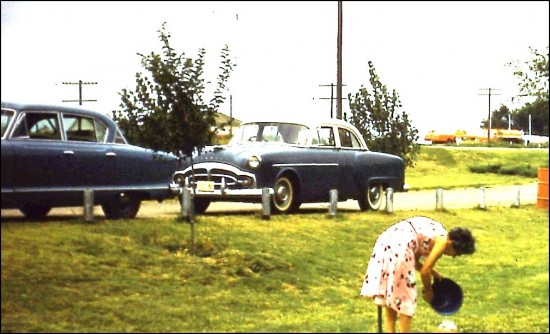 My grandparents had a Nash sedan in the 1950's, the tail-end of which you can see below in front of my Dad's old Packard.
That's Grandma washing what looks like a cast iron frying pan after a picnic in Downs, Kansas.
They were actually designed in those years by the famous Pina Farina design studio in Italy. They were big, the entire front seat would lie flat, and my grandparents would literally "car camp" in it.
I loved the old Nash, and am sad that the company met it's demise by being bought out by Rambler, which became American Motors, which is now history as well.
I've never worked in advertising, but this frightening chap from a 1948 ad would make me inclined to do my own service.
He looks like he's warning me that he sat and smoked a pack of Pall Malls while waiting for an oil change, and now is ready to go out and drive fast with a migraine.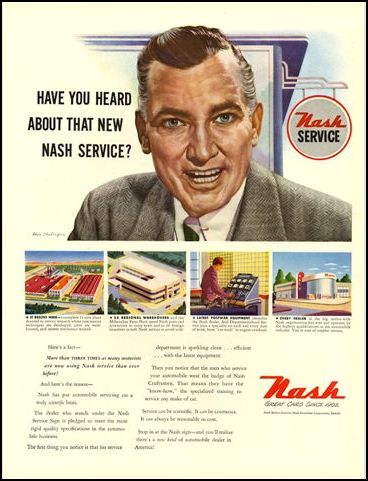 And by '49, they had ads that insinuate to me that the angels will swoop down to pick one up after driving the Airflyte. They're shooting for a heavenly experience, but with that scary dude from the year before, it leans it a little ad-noir for me!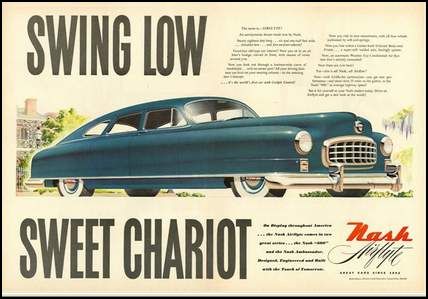 I did love Grandpa's old nash.