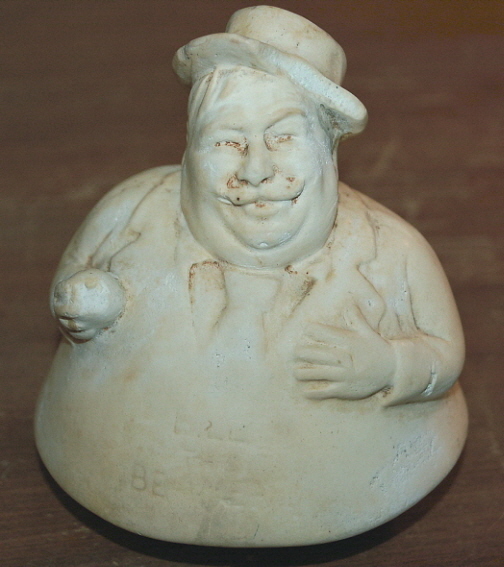 It's April 14th, 1910. Our 27th President William Howard Taft is at Griffith Stadium in Washington, DC, attending the opening day baseball game between the Washington Senators and Philadelphia Athletics. On that day history is made when on the spur of the moment before the start of the game, umpire Billy Evans hands the ball to Taft, and, to the delight of the fans in the stadium, he becomes the very first President to throw the first ceremonial pitch over home plate. According to legend, it's said that Taft, who was an ardent baseball fan, was absolutely beaming as he threw that first pitch. His radiant smile was why he was nicknamed Bill The Beamer.
But wait! This roly-poly chalkware statue of a beaming President Taft holding a baseball was made in 1909. That was one year before the historical event. It was well known at the time that he was a passionate fan, but I'm still impressed by the foresight in the decision to create this statue back in '09.
This is a very rare statue, its popularity in its day is comparable to that of modern bobblehead dolls. It's 4 1/2″ tall and nearly 4″ wide. Inscribed on the front with "Bill The Beamer", on the back with "Our Mascot", and inscribed around the bottom with the phrase "Bill the Beamer Co. New York. Copyright 1909 By J.H. Trant". In overall good condition considering it's 101 years old, but is missing a piece of its straw hat.
"The game of baseball is a clean, straight game, and it summons to its presence everybody who enjoys clean, straight athletics. It furnishes amusement to the thousands and thousands. " – William H. Taft
"Politics, when I am in it, makes me sick." – William H. Taft