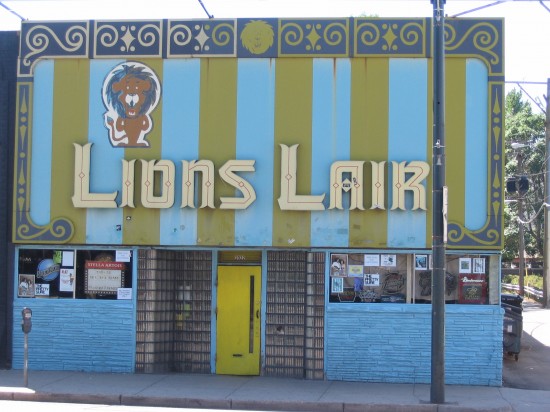 I've driven by this bar many times, but today I decided to drive over and take a couple pictures of it. I don't think I can describe it better than the people I'm quoting here:
"Lion's Lair is the punk rock dive bar staple of Denver. It's definitely dark, seedy, and dirty(which I have always suspected, but it's so dark you can't tell… great! I don't wanna know how dirty this place really is. lol) Lion's lair is a tiny venue but it's awesome to go see a good show… I've seen a mix of bands everyone from UK Subs to The Red Elvis's at the Lair and local bands like Lyin' Bitch and the Restraining Orders often call this place their old stomping ground."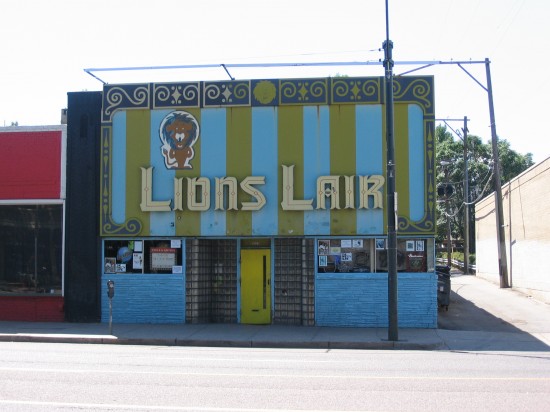 "Situated squarely between an alley and a tattoo parlor, this emphatically CASH ONLY!! bar is Colfax culture at its very finest — don't despair, there's an ATM at the Walgreen's just a few steps down the block. Long a mainstay of punk culture in Denver, the space is tiny, with a nice bar located in the center of the room — within arms reach of patrons and players. If the band is willing to turn down to a reasonable volume, a seat at the bar is perfect. The Lair presents a schedule of national acts that are a thrill to see in such a small setting. Hard rock, punk and various forms of alt-country and alt-rock are the mainstays here. A great place to hide away when you're tired of the usual meat-market round."
Lion's Lair. Another Colfax Avenue treasure in Denver, Colorado.