No, the photo below isn't Brooke Shields during her well-documented post-partum depression, nor is it a mug-shot, it's simply the plastic head of the model-actress from the 1982 "BROOKE SHIELDS – THE WORLD'S MOST GLAMOROUS TEENAGER" kit. Found this at a garage sale last week for $2.00, and when I got it home I discovered the box also contained a pair of heavy-duty hand-cuffs. I can only guess what strange fetish its previous owners engaged in.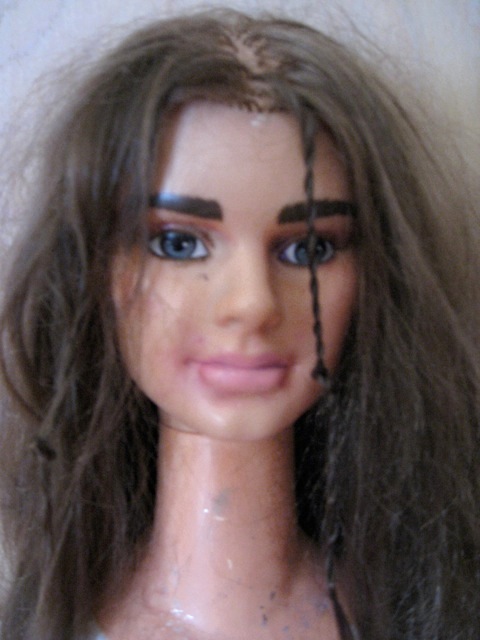 Clearly, the not-so-glamorous Brooke Shields head and the photos pictured on the box are world's apart. Gone is the luster from her well-coiffed hair, now thinning and patchy. Her skin is blotchy and smeared with make-up. This Brooke's been around the block a few times and looks like she's been on a crystal-meth bender.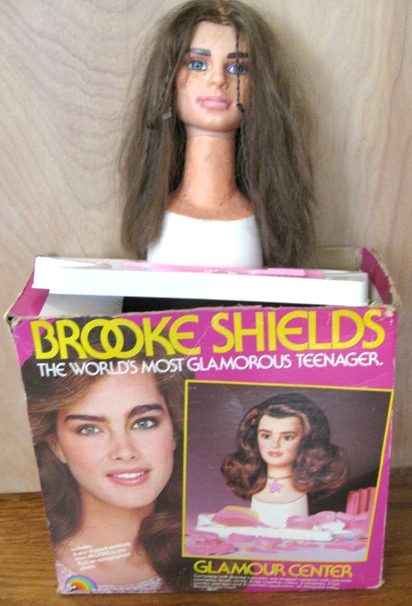 From the box: "Includes everything you need to get Brooke ready for the movie set or a photo session. Apply makeup and wash it off. Hair is washable and easy to curl. Safe non-toxic cosmetics, beauty supplies and jewelry." Also, "Includes a star-shaped necklace from BROOKE to you PLUS an autographed photo." And, "Complete with Brooke's jewelry, star-shaped compact with non-toxic cosmetics, brush, comb, 6 clip together rollers, 2 barrettes, 2 hair combs, sponges and 3 cosmetic applicators, all designed with Brooke's star motif. Unfortunately, the box currently contains only one pink comb and one barrette. And the handcuffs.