How happy am I that neither rain, sleet nor snow could keep the Kennett High School Marching Band from playing my song, "September" back in January of 2007?! I've been especially aggressive tracking down marching bands playing "September" as in a couple of weeks I have the great honor of conducting the University of Wisconsin marching band at the Homecoming halftime game when they play three of my hits, "September", "In The Stone", an Earth, Wind & Fire song that has grown to mythical proportions in marching band repertoires, and " I'll Be There for You (the theme from Friends)", which I have no idea as to why it's on the program when "Boogie Wonderland" or even "Neutron Dance" would seem more appropriate to drum the spirits up for the big game.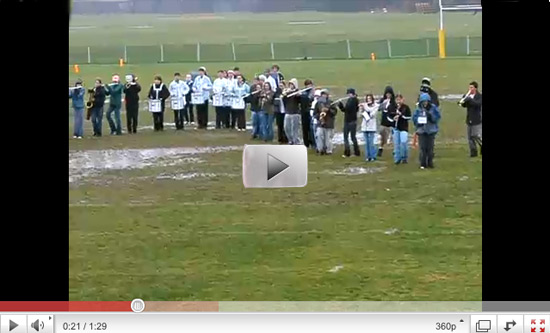 Despite the fact that I (co) wrote everything, I can't read music and thought that maybe if I watched a few marching bands play the songs it might better prepare me as these arrangements always differ slightly from the records. I'm not sure how much I can really learn from the Kennett High band other than to always wear galoshes in inclement weather and to remember to practice so I can hit the notes. I will say that the rain makes an excellent percussive intro.
For a more through exploration of my "365 Days Of September" mission as well as details of how the song was written, go here. Until tomorrow, ba-de-ya!