The vintage items below are apparently called "Rack Toys" because they were sold on those revolving, metallic racks at grocery and dime stores. The first one is a pair of Wham-O Super Ball Dice from 1966. I found this at an estate sale recently for $3.00 and listed it on eBay where it sold today for a whopping $316.00. Who knew?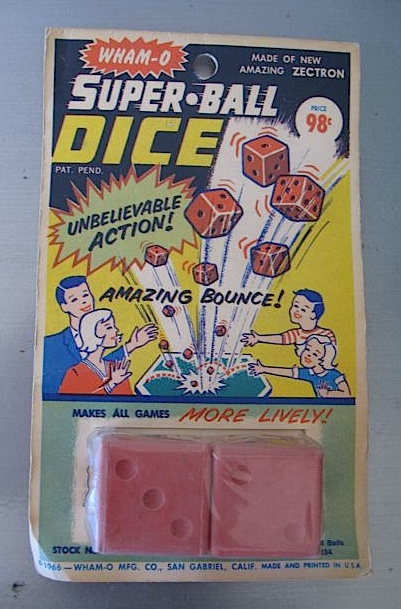 The next toy is from 1970 and Hong Kong– the package contains four incredibly cheesy plastic models related to the 1969 Apollo 11 Mission to the Moon. The mini astronaut inexplicably is holding a rife ("one small bullet for man, one giant massacre for mankind?"). There's a rocket , some sort of land rover, and a launcher that resembles one of those orange cones you see when they're doing construction in the street. The card says, "Authentic Mechanical Replicas" and "They really work," but actually they don't, unless you count the rolling plastic wheels on the land rover.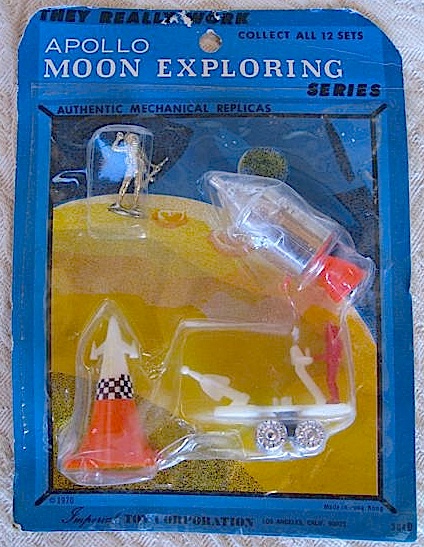 The third toy has Bozo the Clown on the card, but the item has nothing to do with Bozo. It's a red plastic "Magic Spider," which just means it has a magnet on it's bottom. The instructions (which are printed on the card and difficult to read) explain that you simply place the spider on paper, cloth, etc., then make the spider move by moving another magnet (not provided) underneath it. A cartoon version of Sherlock Holmes says, "Fear Not! For I Can Control It!" while a little girl in yellow who looks like she's in a ballet pose, says, "Oooh Thats Scary!" (no apostrophe in "that's," of course.) The upper right hand corner of the card is chopped off– my guess is this was a gift for someone, so the price tag was removed.