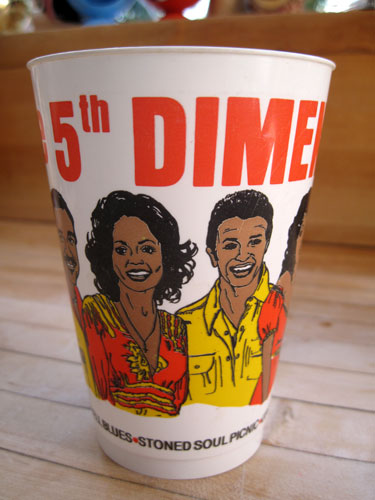 I absolutely loved The Fifth Dimension. I loved Jimmy Webb and I loved Laura Nyro, the songwriters who wrote some of their biggest hits, both of whom were major influences on my songwriting career and the latter of whom was one of the first artists I worked with when I got a job at Columbia and Epic Records fresh outta college. Nyro wrote songs like "Wedding Bell Blues", "Stone Soul Picnic" and "Save The Country" while Webb wrote The Fifth's first major hit, "Up Up and Away", as well as "Carpet Man"and my favorite though slightly more obscure Fifth song, "Paper Cup".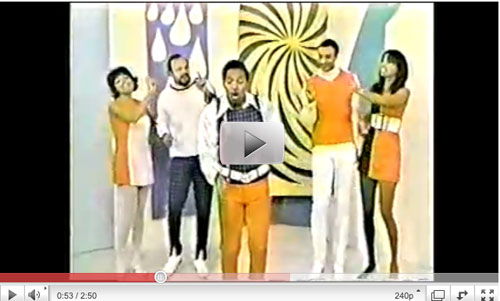 My 7-Eleven Slurpee cup may not be a paper cup but it's plastic and lasts forever which seems like it would have been a more appropriate kind of cup for Jimmy Webb to write about crawling into and wanting to live forever.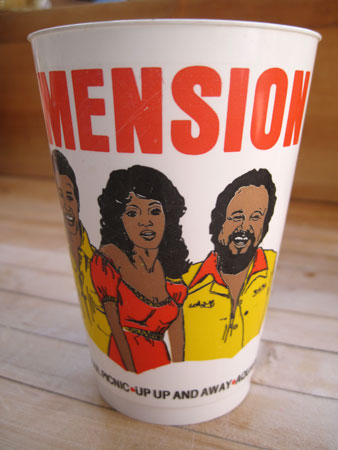 The likenesses on this plastic Slurpee cup bear little resemblance to the real persons. For example, here's Billy Davis, Jr. in plastic next to Billy Davis, Jr. in real life: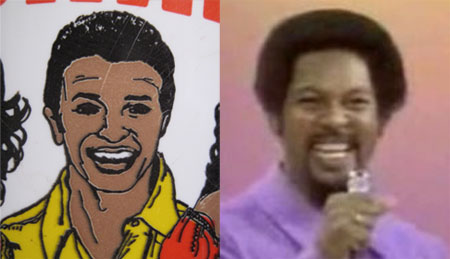 They didn't even get his signature pencil-thin-mustache-that-turns-into-a-goatee and certainly shortchanged him on his Afro. 7-Eleven did a better job on some of the other 1970's rock star Slurpee cups I've collected: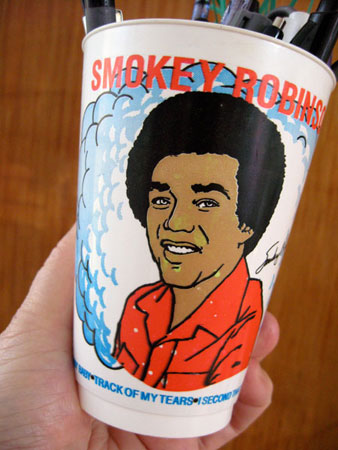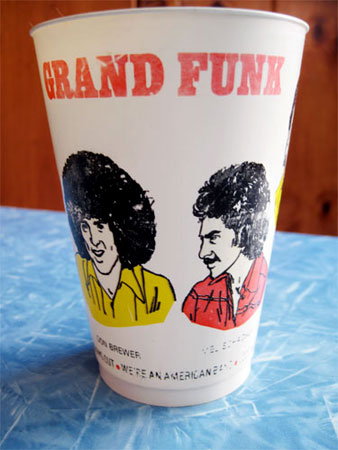 Though neither Smokey Robinson nor Grand Funk seemed the types to merchandise themselves by aligning with a convenience store, especially as this kind of stuff was rare in the 1970's, but maybe they liked Slurpees as much as I did. The Fifth Dimension seemed a more likely choice because of their sugary and delicious pop sound.