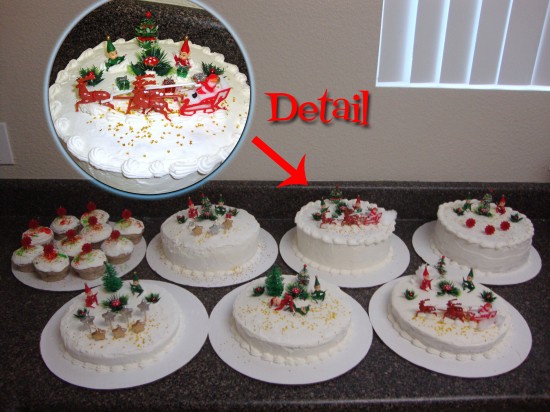 .
Everyone hates Fruit cake and I love underdogs. I also love kittens and I do cat rescue. Caring for adorable kittens has softened my brain to the point where I easily anthropomorphize everything. I couldn't help but notice how fruit cakes often go uneaten and unloved; they are the homeless orphans of the cake world, it was time for me to rescue them. Fruit Cake is also a slang term for "crazy person" so it seemed the natural choice for my baked gifts this year.
I wanted to do mine in the olde English tradition which involves a substantial amount of work. But this effort seemed well worth it for something that may be stored and re-gifted for many years to come.
I started these the first week of November. I made a non traditional fruit cake, using just a spice cake base and avoiding those fruits that have the consistency of cartilage. I used, instead, dried pineapple, mango, walnuts and chocolate chunks. Then the cakes were "fed" for the following weeks with rum. Once a week they were taken out of their paper wrap and tins for a drink of rum. I used a spray bottle.
About a week ago, I covered each of them in a layer of rolled Marzipan. I made my own Marzipan (Note to others: Heed the warning signs that your electric mixer has had enough fun and it is time to knead your Marzipan by hand. Warning signs include sparks and smoke. Failure to pay attention may result in a new mixer going on your list for Santa). Then I let them sit and harden for at least three days so the oils in the Marzipan would dry and not stain the nice white your royal icing which is the last step. I frosted all of the cakes and applied edible glitter and plastic toys while the frosting was still wet (I searched long and hard to find the kitschiest). I then put them in cardboard boxes while the Royal icing hardened into a durable cement-like finish. Sadly, one box was sat upon by one of my many cats resulting in the "sunken elves" scene shown in the detail.
When finished, the added bonus of this cake is that it can also be used as a weapon. A mugger might think anyone carrying a cake is an easy target but this cake is much like a cinder block and can be used to crack their skull if need be while still retaining it's structural integrity and staying yummy. These cakes are both festive and fight crime.
As you can see, I've made several of these as gifts in three sizes. I have the traditional single layer for my friends, Christmas Cup Cakes for the people I don't like all that much and the double layer for my wealthier friends that might lend me money in the new year. Candles on toothpicks (a lucky find at the 99 Cent Store) allows my family tradition of setting the cake alight to sing "Happy Birthday" to Baby Jesus as well as honoring the natal anniversay of my dog Trevor, who was also born on Christmas Eve.
This is my first submission, please be gentle.