Just like Christmas Cakes aren't the same wihtout plastic toys to adorn them, so it is with the cocktail. I love those little plastic monkeys (which also make great earrings) and found a fine assortment of them along with mermaids, elephants, donkeys, camels and girraffes. I think those monkeys have now been surpassed by my new favorites, these black cats.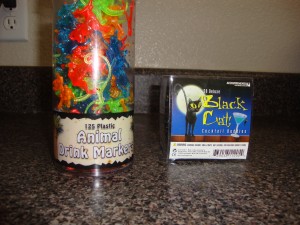 Now what cocktail should these go on? The Flufftini of course! Flufftinis were invented just last night so they are still in the first stages of experimentation. The key ingredient is Pinnacle Whipped Cream flavored vodka. Put 4 oz. in a shaker, add ice and a dollop of FLUFF. Shake well, pour into chilled glasses to which you have added a Fluffy Stuff cotton candy rim. Do not strain, the Fluff does a pretty bad job of incorporating itself into the drink so you get a nice gooey treat at the bottom.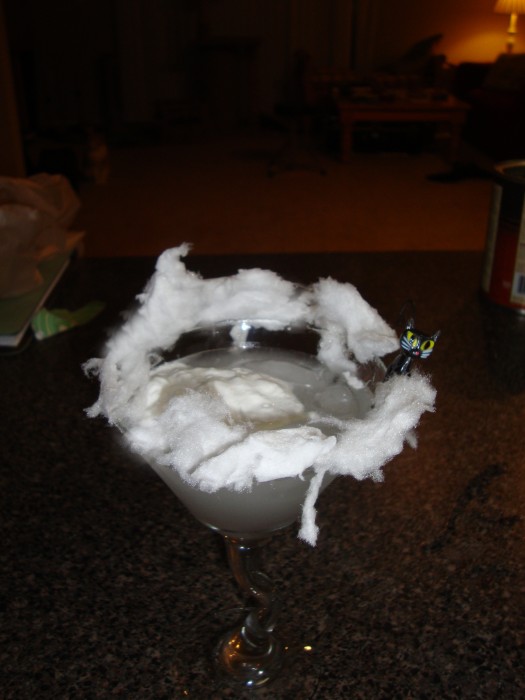 Cotton candy is a more unstable medium than Allison Dubois so you might want to go with a Baker's sugar rim. Another variation is the "Make a Wish Flufftini" where a bit of pink cotton candy is placed on top of the glob of Fluff and the guest makes a wish before it melts away leaving a little pink stain and pretty pink sediment. Sugar increases the efectiveness of alcohol on destroying your senses so please enjoy responsibly. Do not drive or operate heavy equipment while sipping Flufftinis.