I am a Little Lulu junkie. I have old comics from when I was little that I made my mother save. They're beaten up for the most part, but I still can thumb throught them. My mom taught me how to read on Little Lulu comics and I was the only kid in kindergarten who could read when I started school. I have this very cute stuffed Little Lulu doll that my sister sent me a few years ago that she bought at Kohl's. That Lulu has a little yellow plastic purse attached to her arm, that my cat LilyRose when she was a kitten, decided to teethe on it. So now it has hundreds of little needle holes in it.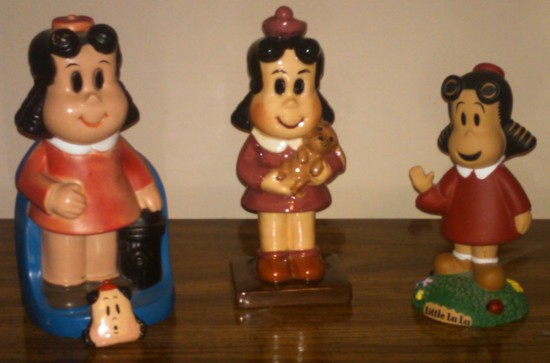 These Lulu's are my favorites. I have them in different rooms. The bobble head (on the right) sits on top of an old 12-inch TV-VCR combo that's on my desk. I like to play with her when I'm supposed to be writing/working. The plastic Lulu on the left is a bank, that an old boyfriend of mine found in a thrift store in the 80's. Whenever I find a coin on the street, it goes in the Lulu bank. I'm seem to always look down when I walk, so I'm always finding money in the street. I've filled her up twice in the past 15 years.
The Lulu pin at the bottom of her feet I found in a jewelry/gift store on 3rd Street years ago. Doesn't really look that much like her, but it still is Lulu. And I do wear her on jackets.
My favorite Lulu though, is in the center. I bought her at an antique shop that used to be on Ventura Blvd in Studio City not too far from Art's Deli. She was not cheap, and I didn't care. She's ceramic and in perfect condition. I love this Lulu (she's the only one I've seen holding a dog) …. so she lives in my bedroom.