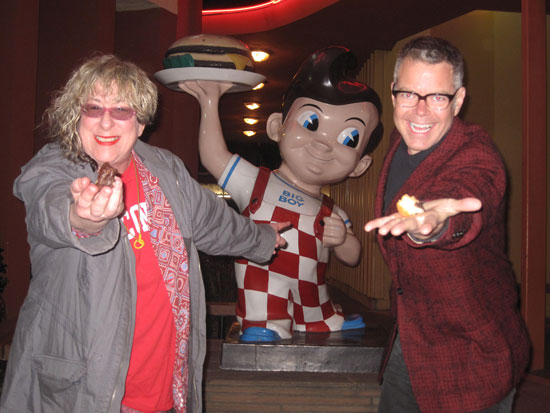 A couple days ago, I documented my Sunday drive with Charles Phoenix, noting that our very first stop was for an appetizer at Spudnuts, a donut establishment where the donuts are made out of potatoes. We weren't sure how these were gonna taste but I can tell you that the big fat cakey one I had was literally one of the best I've ever tasted.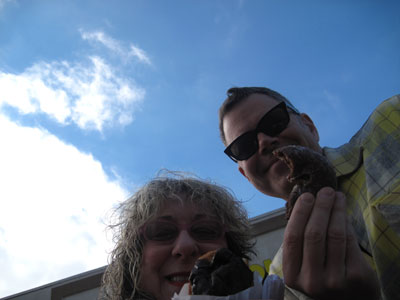 When Charles and I hit upon foodstuffs of this magnitude we oftentimes stick it in a box, videoing ourselves packing it up, and then open it in a year to see how much has changed. We were about to open a box of two dozen Yum Yums we laid to rest last New Year's, 2010…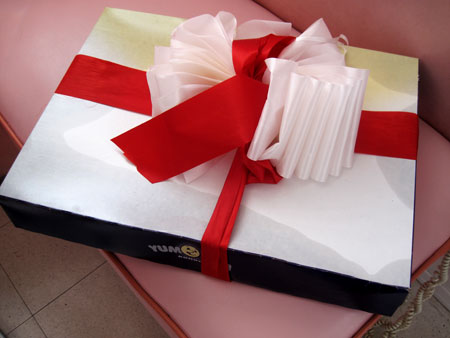 …but decided to let it go another year. We think that other than being harder than a rock, the donuts are going to look perfect but just be more dietarily appealing because, as you can see, all the grease  has been absorbed by the box. But that outcome will now not be revealed until 2012.
This last Sunday, our Spudnuts were so good that we both saved the last bites with intentions of also wrapping them up for a year to open in January, 2012. But we both forgot them under the front seat of Charles' car and when we went out a couple nights ago we found that all they were of use for by then were to break your jaw. At the moment of discovery, we were right across the street from another historic Bob's Big Boy in Burbank. So we raced out of the car and posed in front of the Boy himself in order to offer you the last look at our delicious, beloved Spudnuts.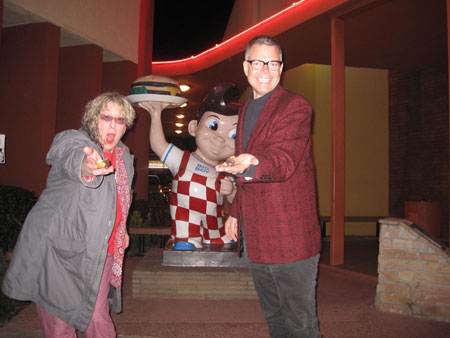 If by any chance you have a Spudnut establishment in your neighborhood –  I have no idea if this is local to California or what –  I'd sure like to know if they're as good in your neck of the donut as in ours. Happy chewing!