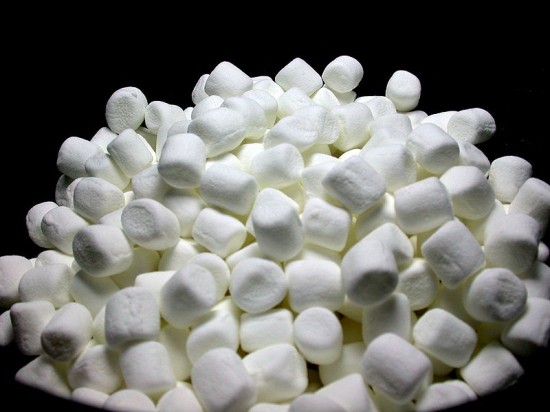 For those of you who have never misplaced a bag of mini-marshmallows for a year, I have to say that it has had some interesting effects on the marshmallows. In the interest of scientific inquiry, I have examined some of those effects. Here's what I've found.
The marshmallows do not appear to have spoiled, in the sense of becoming unsafe to eat. They have no mold, discoloration, or off taste.They have, however, become glued together into a solid mass of marshmallow. To eat some, as of course proved necessary during the scientific investigation, you don't simply grab a handful; instead, you must reach into the bag and rip off a hunk.
Doing so is made a bit more difficult by the other main effect of aging on the marshmallows: they have become a good deal firmer and chewier in texture than when they were new. One can see this as a good thing, actually, as new marshmallows are so soft and squishy that there is no challenge in eating them; they put up no resistance, require no effort to chew. Well-aged marshmallows, though, resist enough to be interesting, but not so much as to make eating them a chore. Aging them much more than a year would probably increase the chewiness to unpleasant levels.
In conclusion (having finished the contents of the bag last night), it is clear that further research is needed. Tests must be made on the effects of aging for shorter and longer periods, in the hopes of finding an ideal age for consumption purposes. However, it is unlikely that my wife will allow any further tests on my part (especially if she ever reads this!), so I must appeal to the scientific community at large to carry on my researches.
(Originally posted as a Facebook note on Sunday, July 25, 2010 at 2:56pm Pacific Time.)