Some more hats from the fabulous 50s, but we're edging closer to the sixties now!
I LOVE this hat and actually think someone added some embellishments to it after it was initially designed…The beading looks more early 50's (could be 40s, really, when I look at the beads) but there are some plastic jewels glued on somewhat crudely and they look like they were made in the 60s….This is pretty much my favorite color…It's a gorgeous coral pink and the design is just lovely!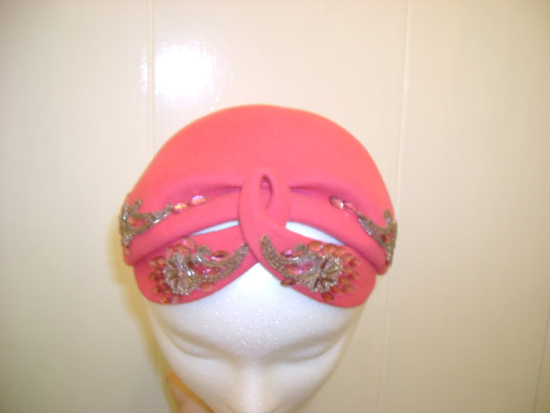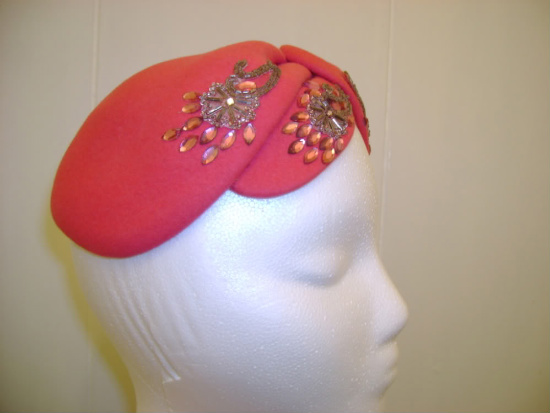 This is very different, but close to the same color of pink (which I LOVE!)…This is kinda frumpy and weird , but I still like it! Worn to the side with the right hairdo, the ribbons and flowers don't look too granny-ish…In fact, I recently came across a photo of a popular modern pin-up girl modeling one of her dress creations and she was wearing a very similar hat! She's so young and lovely that it took the granny right out of this style! Good for her!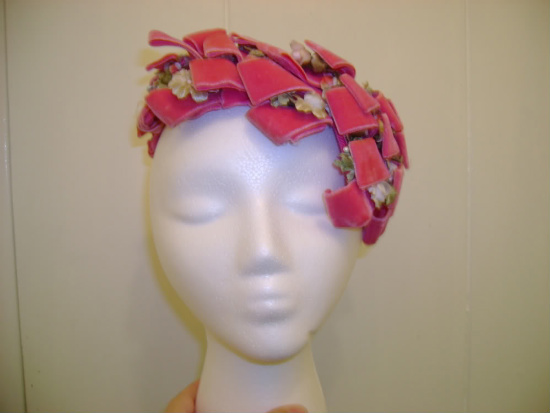 Here's a favorite winter hat. I haven't worn this in awhile, but I love it. The little balls have rhinestones embedded in them. Simple, chic and lovely! It's a very nice color of white. There's just a touch of ivory to it….