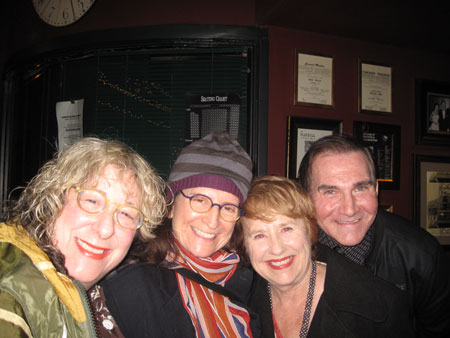 Me (friend to all), Prudence Fenton (animation and special effects director, Penny and sometimes voice of the flowers), Lynne Stewart (Miss Yvonne) and John Paragon (Jambi and co-creator of Pee Wee's Playhouse) at Wayne White's fantastic one man show, "Act like You're All Impressed" at Largo.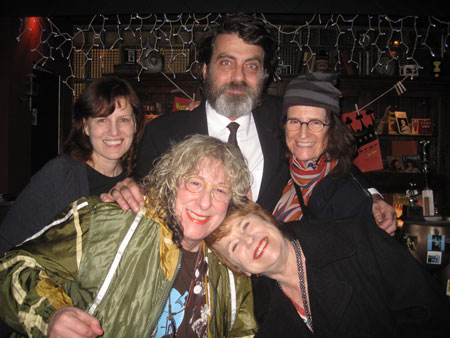 Alison Mork (Cherry and Chicky Baby), me, Wayne White (Randy, puppeteer supreme), Lynne Stewart, and Prudence Fenton.
If you live in LA, Wayne is doing three more shows this month. Excellent, excellent, go and see it!
Wayne White: You're Supposed To Act All Impressed
Famed LA Artist Bringing His Autobiographical Stage Show To Largo At The Coronet
Every Tuesday in February – Doors open for drinks 7pm, Show Time 8pm, Tickets $20.
After touring his one man, biographical stage show across the country acclaimed artist Wayne White will be entertaining audiences at Largo at the Coronet in West Hollywood every Tuesday in February. The Emmy and Billboard award winning painter, illustrator, puppeteer, set designer, sculptor and Southerner is honored to be invited to perform at the venue and the event promises to be a high energy, laughter and music filled spectacle featuring arresting images, video clips, and puppets from the artist's life and 30 year career.
A
White is better known for his work as one of the original designers and puppeteers on the hit show Pee Wee's Playhouse, for which he won three Emmy's, but has recently achieved great notoriety in the fine art world.  His paintings featuring monolithic letters crafted onto vintage landscape paintings have been shown in galleries around the world. His career has been documented in the 382 page monograph "Maybe Now I'll Get The Respect I So Richly Deserve", edited by designer Todd Oldham. White was also art director for Peter Garbriel's 'Big Time' and The Smashing Pumpkins 'Tonight, Tonight' music videos for which he was awarded Billboard and MTV Music Video Awards.