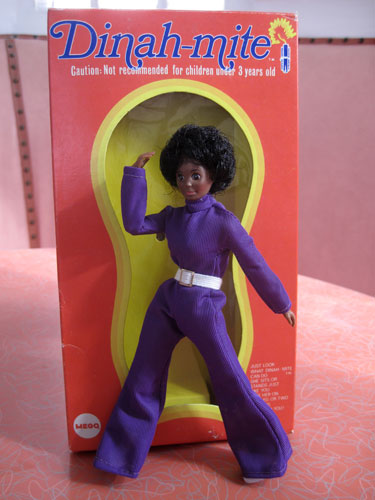 I love things that are 'off' but born of popular trends and then spin off into their own orbit, making a firm landing on the terra firma of Pop Culture themselves. In the early 1970's, Mego Toys, the po' cousin of popular doll brands like Barbie, did just that, popping out one cheaply made, shabbily dressed femme fatale after another.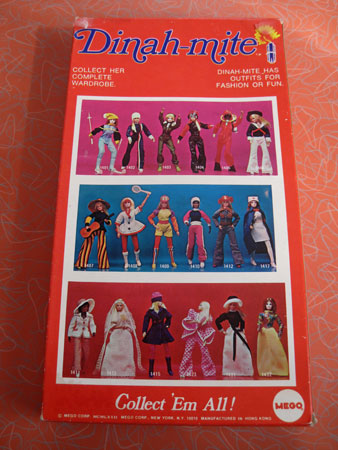 I love product names like "Dinah-Mite" because of their shameless attempt to cash in on other popular trends of the day, in this early 70's case, second rate karate films starring wannabe Bruce Lees, third rate female detectives in the shadow of Coffey and Foxy Brown, and, most predominantly, J.J. Walker's Good Times outasite colloquialism, "Dy-no-mite!".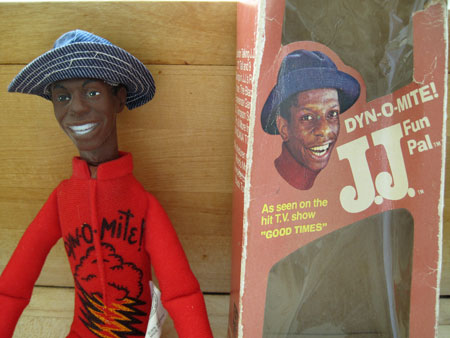 One lady who is certifiably DYN-O-MITE!, not at all cheaply made and most likely a karate master is my good friend and fantastic actress, Jenifer Lewis. She of close to 200 films and 60+ television shows fame and easily one of the most hysterical people on the planet. Last Friday night she whooped and holla'd – and I mean HOLLA'D – in "So Much Love – An Evening with Jennifer Lewis, A Fundraiser to Benefit Rogue Machine Theatre" at The Nate Holden Performing Arts Center in LA.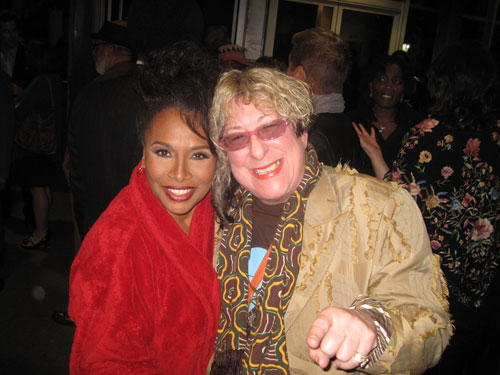 Jenifer and I go way back to when she was one of Bette Midler's Harlettes in the early 80's. In addition to being great friends, we've always supported each other in all the crazy things we both do. When my alter–ego, Bubbles the artist, worked full-time to support me while I worked on The Color Purple musical from 2001 through 2005, Jennifer was first in line with the commissions. Here's a beautiful salad bowl that Bubbles made of her.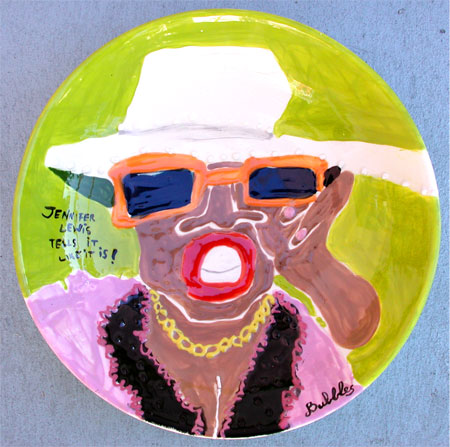 You can see it's a dead ringer: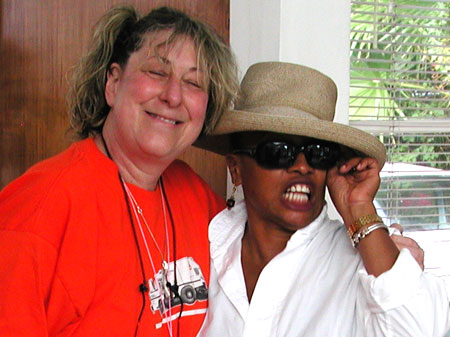 Jenifer has always been known for her mouth, which is large and always going. Another woman who was known for her skills with verbiage was the great comedienne, Moms Mabley, who Bubbles committed to acrylic the same year the bowl was made. Moms now hangs on Jenifer's kitchen wall.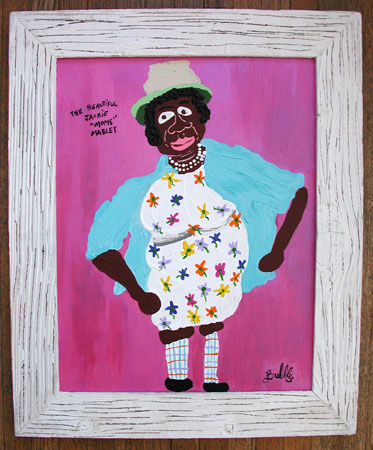 I got a shout-out at her show when Jenifer told the story of going to an audition at Disney where out of the blue they asked her if she could play an old lady. The painting of Moms flashed in front of her eyes and, as if she magically lost all her teeth, she channeled Moms and landed the role of Mama Odie in The Princess And The Frog.
Many friends came to see Jenifer perform Friday night. 'Friends' being the operative word as she  introduced her musical director, Michael Skloff, my Friends theme song co-writer, who performed the song, TV theme version, at the show.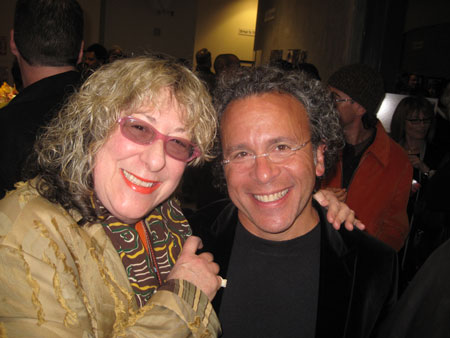 Also there was Dawnn Lewis…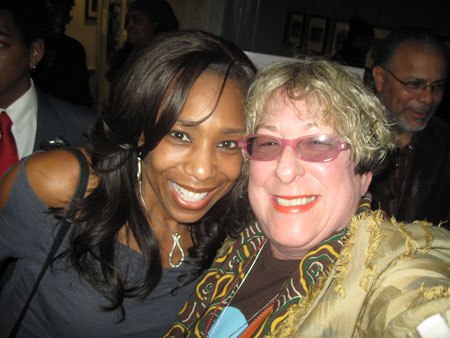 … Vanessa Bell Calloway and Prudence Fenton…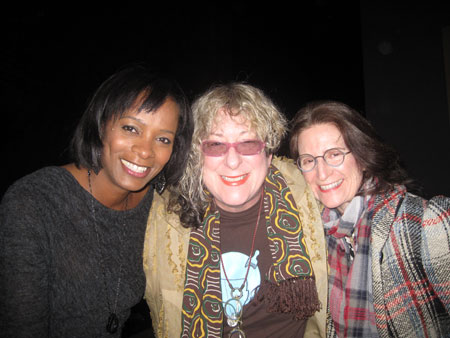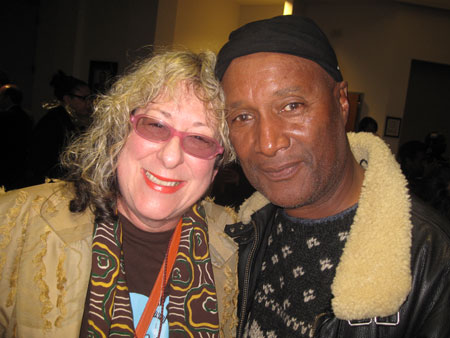 …Shangela Laquifa Wadley of RuPaul's Drag Race 2 and 3…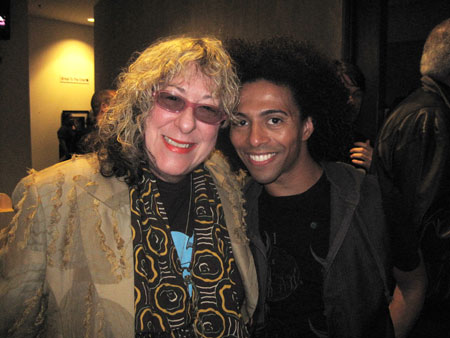 …and one of my favorite tv actresses of all time, Marla Gibbs.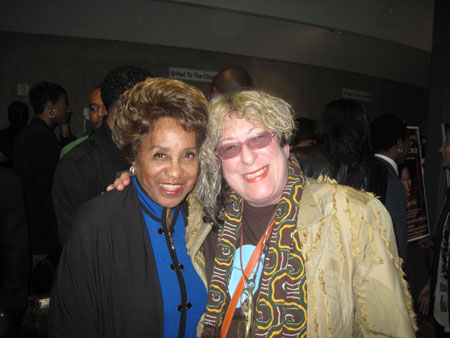 I have a huge collection of vintage Jet Magazines. Here's one of them: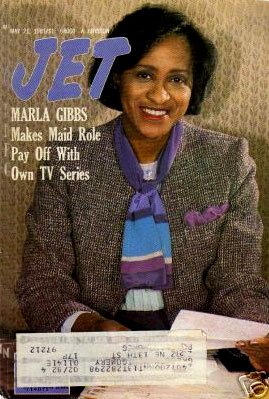 Dinah-Mite has Marla's hair and they're both wearing purple.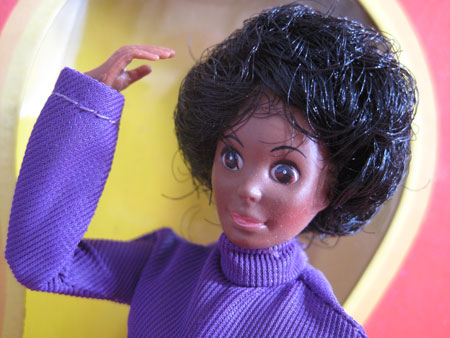 Also wearing purple are Jenifer and I on the opening night of my musical, The Color Purple, on Broadway, December 1, 2005.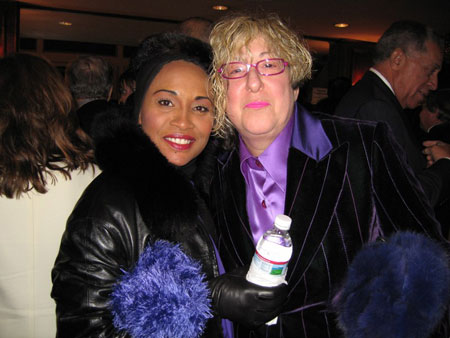 Thank God our purple outfits fit us better than poor Dinah-Mite's.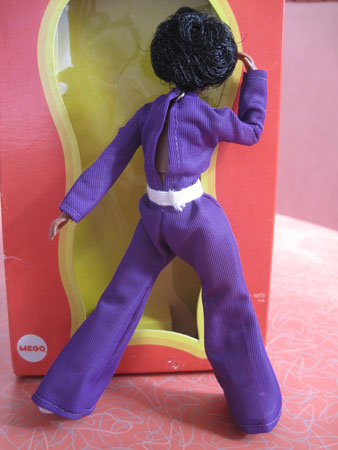 I should show you Dinah-Mite's fashionable go-go boots while we're examining her outfit: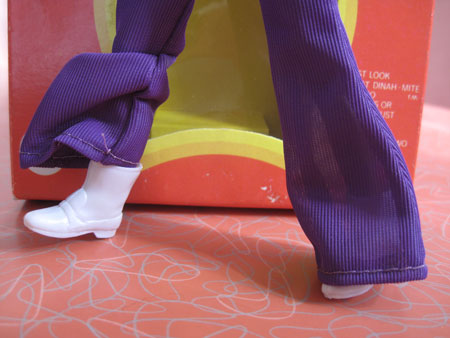 Unfortunately, despite the fact that we both had on fabulous sneakers, I didn't photograph Jenifer or my shoes Friday night. There's only this chest-up shot of two Dyn-o-mite friends after one Dinah-mite evening!