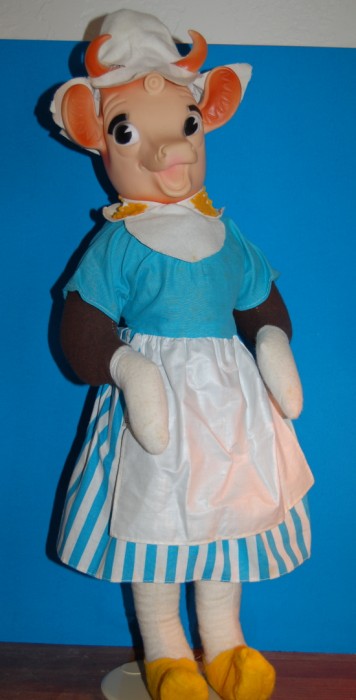 One of the most enduring and successful trademarked product symbols in the United States is Elsie the Cow.
This Elsie doll, which stands 21″ tall, was a promotional item in the 1950's for Borden's Dutch Chocolate milk, ice cream, and a chocolate drink that could be served hot or cold. Her head is vinyl, her body and cap and yellow shoes are made of feltcloth, and her dress and attached apron are cotton.
Here's a classic commercial from 1958, for their Dutch Chocolate ("…it'll warm yer innards real good…"):
http://www.youtube.com/watch?v=32a8VHJbBQU&feature=related
A little history, courtesy of the website www.bordenonline.com:
In 1856, Mr. Gail Borden (1801-1874) received a patent for his process of condensing milk, which marked the first time that milk didn't have to be refrigerated to be kept pure and storable.
In 1857 he founded the New York Condensed Milk Company, which was later called the Borden Company. During the Civil War the company supported the Union troops by supplying them with this condensed concentrated milk. Borden modernized the dairy industry in 1900, and taught dairymen how to care for their cows and the milk they produce; the methods they learned from the company were later known as the "Dairyman's Ten Commandments", and became the basis for many modern health department regulations.
In 1938, the symbol of Elsie the Cow was created to represent the Borden Company and their products. She was a mega celebrity of her time, matched only by Mickey Mouse and Joe DiMaggio.
In 1939 the company introduces a real cow to be its Elsie; they chose a sweet-faced blueblooded Jersey cow named "You'll Do, Lobelia". In the 1940's she became a movie star in the film Little Men, got together with Elmer the Bull (of Elmer's Glue fame) and had a daughter named Beulah. Elsie and Beulah went on nationwide tours at the start of World War II to promote the sale of U.S. War Bonds. In 1947 she and Elmer had another offspring, this time a bull calf named Beauregard (there was a contest to name him; a million entries were received). In the 1950's and '60's Elsie was featured in a series of animated Borden commercials. (My note: also in the 1970's, too). In 1957 she gives birth again!, to twin calves Larabee and Lobelia. In 1999 Elsie celebrated her 60th birthday party in Bryant Park, New York; in attendance were hundreds of school children as well as her first caretaker, Jim Cavanaugh.
Yet two more vintage black and white commercials; in the first, Elsie suggests serving Borden's Cottage Cheese instead of lobster casserole; the second one shows how much fun it is to drink Borden's Buttermilk in the summertime:
http://www.youtube.com/watch?v=RIqQSG3J2I4
Or may I suggest Borden's Super Starlac powdered milk instead of the refrigerated kind (mmmm, tasty):
http://www.youtube.com/watch?v=pUK_Yt2uKSo&feature=related
After all these decades the lovely Elsie is still the spokescow for Borden's, but she hasn't aged one bit.