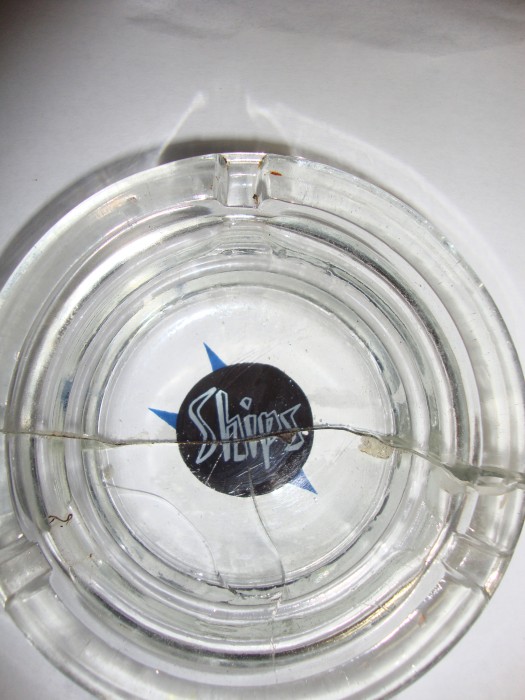 Where else were you able to make toast at your table?
In a recent dig through my garage, I uncovered this treasured possession: an ash tray from Ships restaurant. When I was very little, Ships was my favorite coffee shop.  There were three of them in the Los Angeles area; my family went to the one in Westwood usually after attending our church in the neighborhood. When I was nine, we stopped going to church (another fascinating story) and I didn't get to Ships very often after that. As a child I was most impressed with the fact that there were toasters on every table. We had a toaster at home so this should not have been such a marvel to me. But it was the fact  that there was one where you didn't expect it – on a table in a public eatery which made it as unnerving as seeing your teacher at the grocery store. These toasters were no longer operational buy the time I arrived on the Ships scene and were in various stages of disrepair. After church, my cousins and I would eagerly inspect our table's toaster and feel especially blessed to have one that still posessed it's lighter and darker knobs. Since we were coming from church it seemed appropriate to consider Jesus playing some part in our great fortune. This might explain why the whole idea of a toaster scorching a holy visage into starch is quite plausible for me and must surely give reason for my irrational desire to own a Hello Kitty toaster. (This fabulous appliance burns kitty's holy countenance onto toast so you can have a miracle every morning!)
In 1984, I was very sad  to hear that my beloved Ships would be sacrificed for a much needed parking structure. My even more beloved friend, Elliot, attended the last night that Ships was opened for business. Since I was not able to go, he pilfered for me this ash tray. A few days later my sister and I were sitting at the kitchen table smoking like the thin chimney's that we used to be when the ashtray just spontaneously combusted. Some say this was due to some law of physics involving heat on a glass ashtray on a glass table. We prefer to think that he ashtray sympathetically imploded the very instant that the wrecking ball hit the restaurant. Of course we could have confirmed or disproved this theory at the time, but miracles are so much more fun.