http://www.urlesque.com/2011/03/02/54-vintage-cereals/
Any lover of kitsch needs to check out this online article, "54 Cereals We Loved and Lost – A Tribute."  Scrolling through the photos you discover nostalgic favorites from childhood as well as a graveyard of pop culture fatalities.  Who knew there were cereals inspired by Barbie, Rainbow Brite, C3PO and Urkel?  (With the clever name of Urkelos!)  And whatever happened to Fingos– the cereal you eat with your fingers?
At the end you'll see Super Golden Crisp which was a later variety of Sugar Crisp (renamed, most likely, when they realized "Sugar" was no longer a selling point with parents).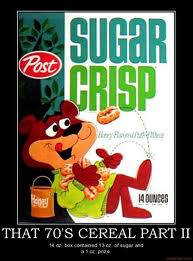 I'm proud to say the original voice of the Sugar Crisp mascot, that Dean Martinesque, turtle-necked hipster, Sugar Bear, belongs to a dear friend of mine, Gerry Matthews.  Below is a photo of me with Gerry and his beautiful wife Pat Stanley (a Tony-winning actress) taken in the early 90's.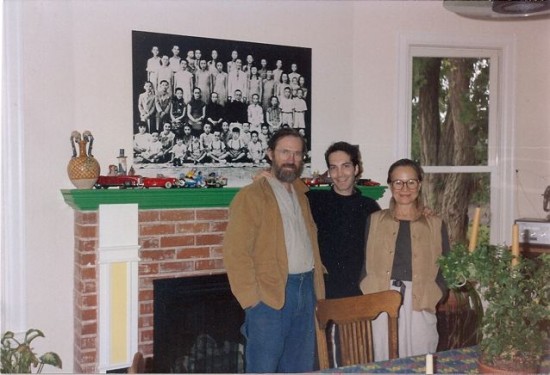 Gerry is now a brilliant artist and founder of his own musuem in Walla Walla, Washington– The Museum of Un-Natural History.  Check out his website at:  wallawalladada.com/gerry.html to see the weird and wonderful collection of art he's created, most of it assembled with vintage items.  One of my favorites is Wall of Fools (see below) which includes a few faces I gladly donated.
http://www.wallawalladada.com/gallery-large.html
If you're ever up in the Washington area, you've got to check out this museum– I guarantee you won't be disappointed.
But back to cereal.  Below is a 6″ change purse I recently found at a rummage sale for a $1.00 for Cornfetti Cereal which was made by Post in 1951.  It was renamed Sugar Coated Corn Flakes in 1958, but is no longer being made.  I had never heard of the cereal but bought the purse because I loved the graphics (and, as mentioned, it was only $1.00).  It looks old but the inside looks suspiciously new.  I can't imagine it's a repro because who would make a purse of a cereal no longer being made that was never really very famous and no one really remembers?  If anyone knows any info on this, I'd love to hear it.