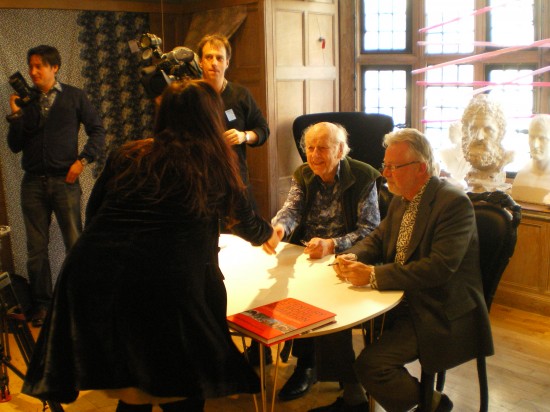 One of my treasured moments, meeting my all time hero Mr Ray Harryhausen, who's work I have loved since a small child. Ray is the king of stop motion, before the advent of computers for camera motion control and CGI, movies used a variety of approaches to achieve animated special effects. One approach was stop-motion animation.
My all time favourite is Jason and The Argonauts, for years I had nightmares about the Harpies, but Talos the creaking bronze giant is still my favourite. To me nothing beats watching stop motion, it has that raw power that still entrances me as much today as it did over 40 yrs ago.
Just missing from the picture is one of the original skeletons that he brought along , it came with its own coffin and was only 6 in high. Seated at the table is Tony Dalton author and curator of the RH Collection.
This took place in Libertys Store London on Feb 11th 2010, Karl was in charge of taking the photos and managed to get one non blurry pic. I was second in the queue and was so excited I thought I would faint…