In the early 1990's, I used to sell movie memorabilia in a co-op shop called Glamour Streets, located in Tampa's Ybor City.  The back of the place was leased out to a tattoo parlor, and for some strange reason, in addition to props, autographs, smoking paraphernalia and other stuff, we also sold a smattering of vintage and kooky original clothing.  The place didn't last long — the everything-bagel-of-a-store closed in, I think, 1994 or 1995.  The storefront, as it exists today (image from Google Maps):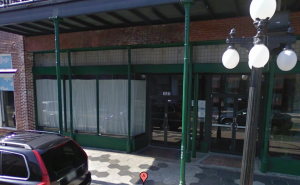 On one visit to check in on my stuff, the manager told me I'd just missed Emo Phillips, who'd bought one of the baby doll head shirts one of our sellers had made.  As a comedy fan, I was bummed to have missed Emo (whose E=MO2 Album was one of my all-time favorites), but somehow the fates decided to make it up to me.  While out to dinner that night, who should walk in wearing the baby doll shirt but the man himself.  You can see from his expression below that he was quite proud of his quirky new acquisition.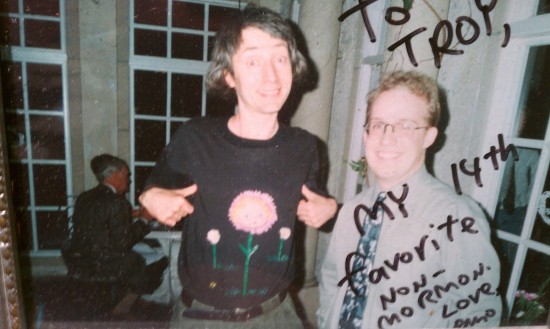 The  shirt featured paint and fabric flowers springing up, the largest one in the front sporting a charmingly creepy rubber doll face… I can't remember if it was glued or stitched into place.
Detail (don't stare too long, lest you be hypnotized):