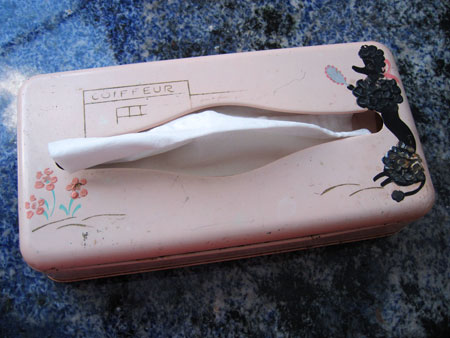 As I said yesterday, I'm not one to randomly collect poodles just because they're an endearing and iconic symbol of the first totally modern decade to which I am ever beholden, the 1950's. But it dawned on me as I adopted Fifi the wastebasket that she was a perfect mate for this Kleenex holder that's been riding around in the back seat of my car forever, always there in my time of nasal need for at least the last decade.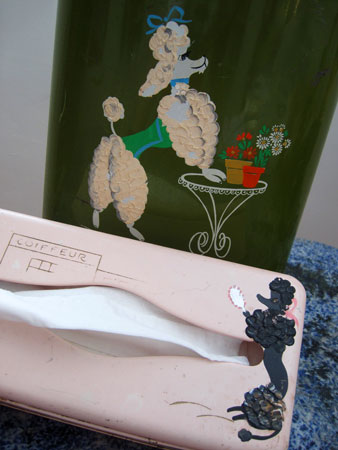 I have a lot of these tin-or-whatever-metal-they're-made-out-of Kleenex caddies but this poodle coiffeur one has always been my favorite. Somehow poodles fluffing themselves in front of mirrors has always seemed logical.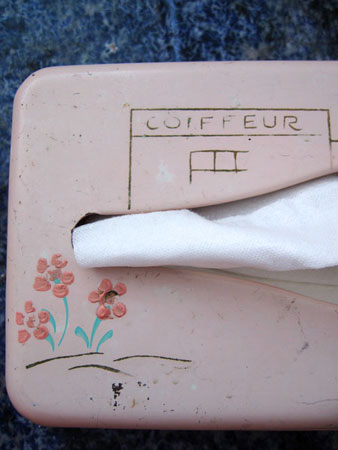 Despite this Fifi missing her rhinestone eyeball she's still handpainted poodle-perfect.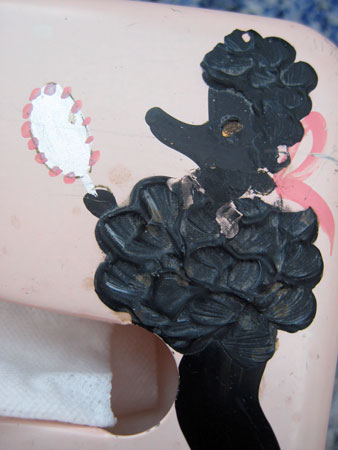 Had I been the crafter I would've gone for tiny little rhinestones around her neck too. But I always admire how they never skimped on the amount of paint needed in order to portray the fur accurately. Though it seems like the bottom of the legs deserved an extra little furball too instead of leaving it at the little tongs that stick out now.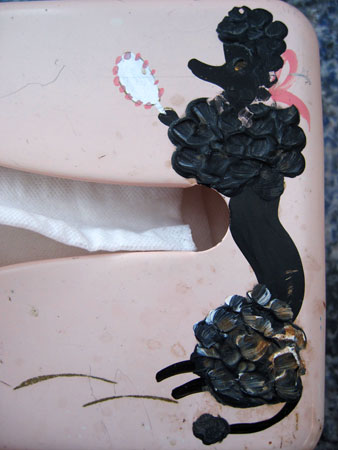 The feet on the Kleenex box itself did get that extra little bit of attention. I love the little air holes pricked into them, though I would hope that any kind of liquid spillage would occur on the tissues only after they were out of the box.