Dusty, "The Fashion-Action Doll" was released by Kenner in 1974.  Denny posted a picture of her best friend, Skye, so I thought I would add pictures of my dolls too.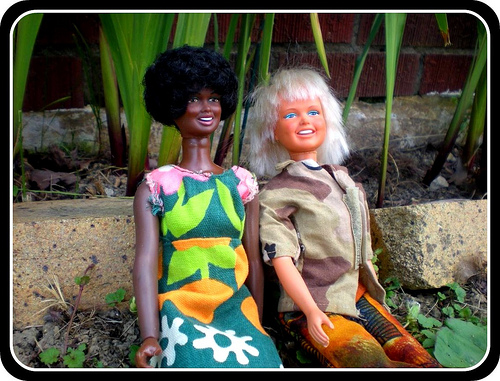 Here is Dusty and her best friend Skye.  These dolls do not hold up very well.  The soft plastic of their arms and legs tend to melt into the hard plastic of their bodies, ruining whatever clothes they are wearing and making them immobile.  There were several versions of them released in various action-themes.  I have a couple of Dusty dolls, but Skye is much rarer.  A friend gifted me this one a few years ago.  She is missing both a thumb, poor dear.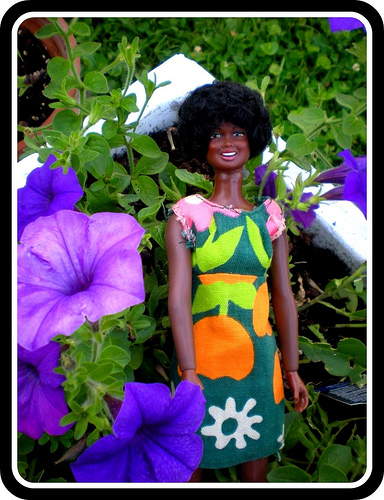 These dolls are widely considered "ugly" by collectors and they are difficult to dress because they are so large and muscular.  I think they are nice dolls though, they are well made and have interesting expressions.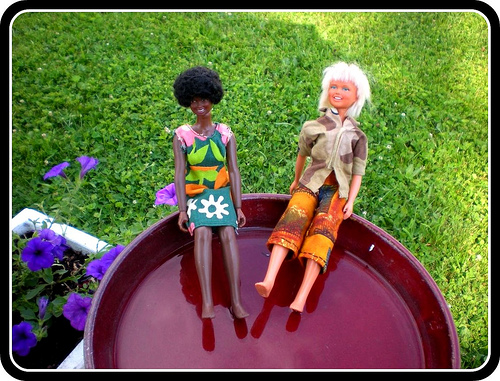 I couldn't find any pants to fit Dusty so I made her a pair.   Skye's dress is homemade, too.
Here is a good website about Dusty doll:   http://www.thedolllounge.com/dusty/Dusty-Main-Page.html
I don't have a picture of my other Dusty.  I think she is cuter because she has freckles and a suntan.