Presented here after many years of watching, waiting, and minor ebay heart failures, the 1955 Zenith Flash-Matic finally arrived in today's mail.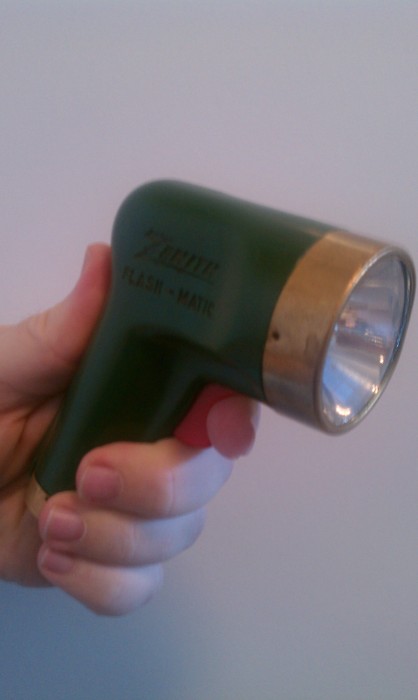 Looks like a flashlight out of grandpa's tackle box, doesn't it?  That's because it kinda sorta is a flashlight.  Well, not even kinda sorta.  Given the grip and shape, it almost looks like something you'd water a futuristic neon garden with.
Here's how it works… you pop a c-cell battery into this lil' chamber…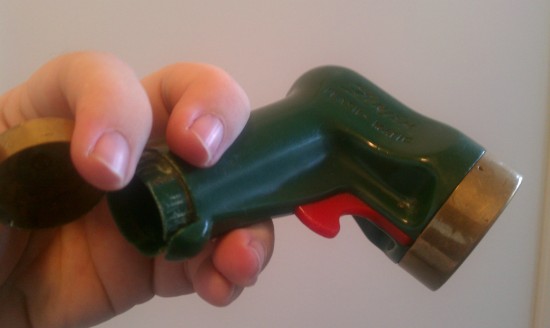 Point it at one of the receptors on the corners of the set, and fire away!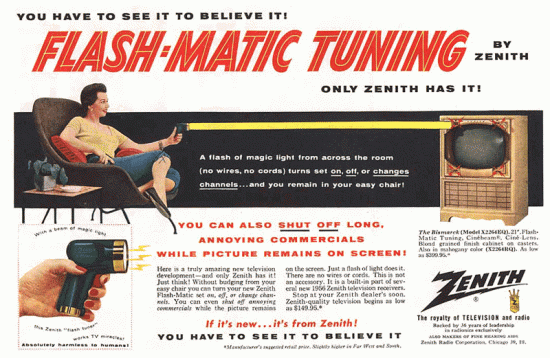 Exciting stuff.  So much so that the ad required underlining the amazing things it could do for emphasis!
Adding to the kitsch value of this find is the fact that it was manufactured with almost complete obliviousness to its critical flaw.  You can probably guess right away what the major issue with the Zenith Flash-matic was, too: Any time somebody went into the kitchenette to make himself a dagwood sandwich and flipped the lights on or off, the photoreceptors went bananas.  This is why the world's first-ever wireless television remote was doomed to just ONE year of production in 1955.  It may have seemed an improvement over the corded Zenith Lazy Bones Remote at first, but its utter impracticality left it wide open to being replaced in 1956 with the Space Command remotes we all know and love for their rich, solid, "ker-plink."  Those only changed channels when you accidentally dropped a fork jussssssst right.
An industrious collector with more room at home than moi has posted both the Flash-Matic's operation manual and images of his working Flash-Matic TV here:  http://www.vintagetvsets.com/fm1.htm