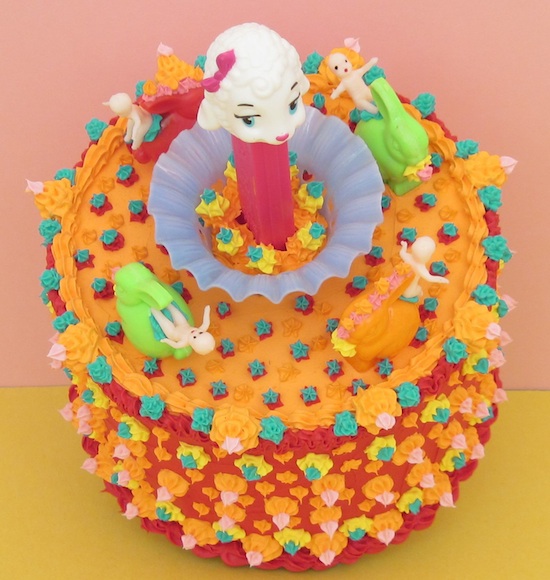 A sweet plastic lamb Pez dispenser is the centerpiece for this quirky, colorful cake sculpture called "Candylamb with Bunnies". The dispenser is embedded in the center of a blue vintage plastic candy basket and is surrounded by plastic rabbits (these came from England) with little pink plastic babies riding on their backs. The bunnies are wearing small faux icing bows under their chins. This cake is brightly colored with combinations of red, orange, blue and pink faux icing decorations.
All my icing is created from high quality acrylic artist materials, from a formula I've developed over the last 30 years, and the colors are hand mixed by me and extremely colorfast. My cake sculptures are a time consuming process as I start by tracking down interesting vintage cake toppers, plastic toys, lucite and celluloid decorations, and anything else that I like that is washable. I then ice the sculptures (starting with a dense styrofoam base) by layering multiple layers of faux icing over several days, or weeks – and I make all the faux sugar roses, or other faux icing decorations, like medallions, in advance. The sculptures are washable with soapy water and a hand sprayer.
I have a shop in Phoenix (and on Etsy) called Kooky Krafts and we are definitely into keeping the kitschy sensibility alive.  All our crafts are handmade by local artists and crafters, and I make quite a bit of it myself.  I've been involved in the art scene in Phoenix for many years.