Today I was driving up Fairfax here in Los Angeles and decided the Petersen Auto Museum was as good a place as any to use the facilities.  If anybody is in that neighborhood, the lav is clean, and you get a 15 minute grace period in the garage, so well more than enough time to run in and run out.
Out front today they had this wonderful contraption that I decided should be a sequel to last summer's road trip submission.  Sorry the pictures aren't spectacular, I just used my phone camera because it was so impromptu.
This is a 1938 Curtiss Aerocar "Vagabond" Trailer hitched to a REO custom truck.  Until 1991 it was owned by Forest Lawn Memorial Park, and it was donated by them to the Petersen.  Reportedly, Forest Lawn drove it several hundred thousand miles over it's life, and had to install a second engine in 1953 when they wore the first one out.  Some sources say it was fitted for hunting.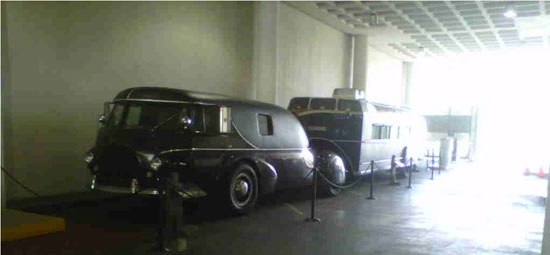 Here's a better picture of the streamlined 1938 Reo "tractor" that was custom built for Forest Lawn and permanently attached to the Curtiss Vagabond, which really was one of the first "fifth wheel" trailers on the road.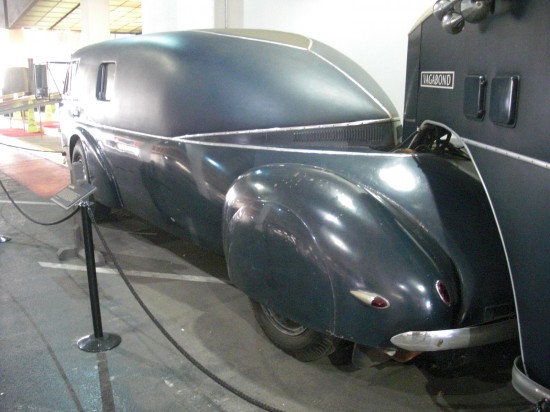 Here's another phone camera shot from today of the actual trailer.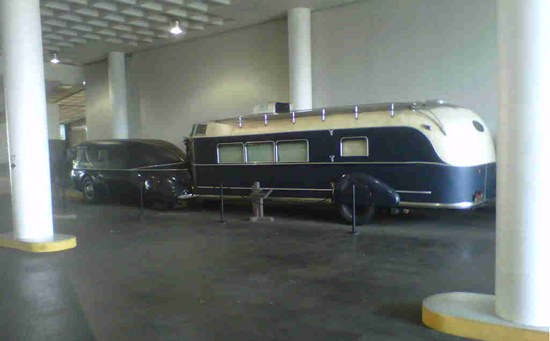 As a side note, there have been a lot of new additions to the museum as of late,  so if you haven't been there recently, it may be worth it to see some of the Petersen's personal vehicles (I think there were 150) that may now be on display, like a Tucker, made famous by the movie with Jeff Bridges.  It's in the foyer when you walk in right now, so you don't have to pay to see this over the top fantastic vehicle, because it's on the way to the rest room.