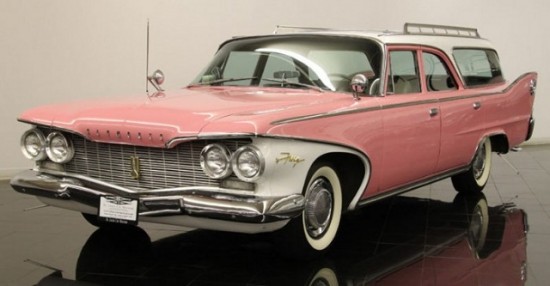 Did any of you ever see a Plymouth like this?  I don't think the color is original, but the Saint Louis Auto Museum had it on ebay recently.  I knew a guy that put the "U" on the hood of his '60 Plymouth where the "Y" should've been, then moved the "H" to where the "O" was, moved the "O" one to the right, so as you met him on the road, you would read "PLUMHOT."  No question this guy needed something to boost his appeal to the ladies, so we all understood kinda.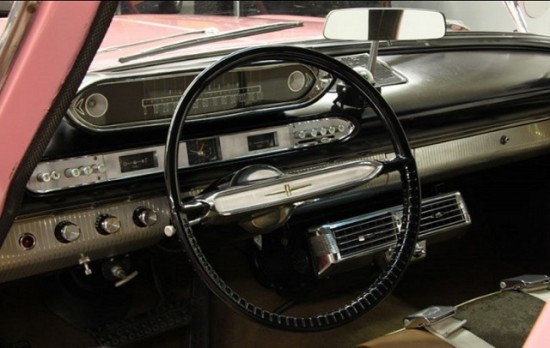 Push-button transmission, with matching climate control buttons on the other side of the steering wheel along with space-ship pod for the speedometer.  Note the rear-view mirror, which Chrysler Corp. placed on the dash rather than hanging from the roof for several years.  Visible under the dash on to the left of the steering wheel is a t-handle that was the parking brake.  It was virtually the same configuration of my Dad's '57 Desoto wagon for the park brake, and I can still hear the zzzzzzzzzip as Mom would pull it out every time we parked, because the transmission didn't have a "park"  button in those days.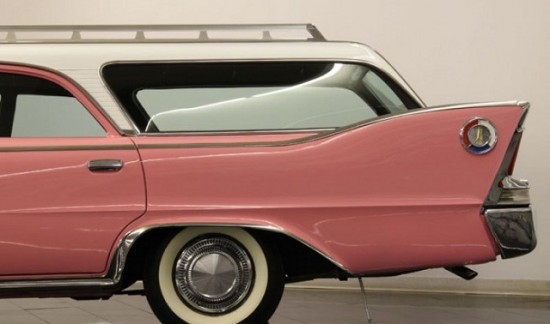 And finally, those fantastic fins.  This model was the Sport Suburban, which was the top of the line for Plymouth wagons that year.  Pink not my favorite color, but I must say who wouldn't want it on this car?