What's a parade without a marching band or few. The goal this year was to get outta the house, down to New Orleans and onto Jackson Avenue early enough to catch all of the Zulu parade. I'd read in the local paper that local favorites the Southern University of Baton Rouge Human Jukebox was going to be in Zulu and the LSU Golden Band From Tigerland was going to be in Rex. Two of the best bands in the state, i'm going to be plantin my feet on the street when they come by for sure. The goal of being there early was accomplished, even saw the Mayor of New Orleans leading Zulu on horseback(more on that in a later post)….and here comes Zulu…and one group of Zulu's Soulful Warriors accompanied by a brass band, still unidentified, for your enjoyment…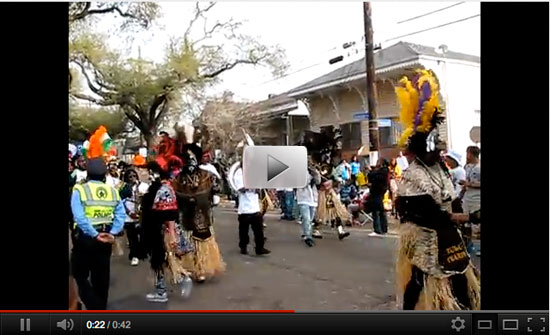 Here is the Southern University Human Jukebox parading on Jackson Avenue at Daneel deep in the hood takin up the whole street and rockin it from one side to the other. Southern is one of the finest college marching bands in the whole of the USA.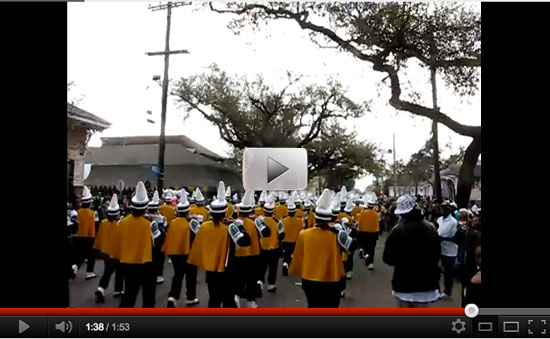 Up next is local New Orleans favorites St. Augustine High School Marching 100 Purple Knights, they're always fun and one of those bands that my friend Dobre will chase for miles when they're in a parade…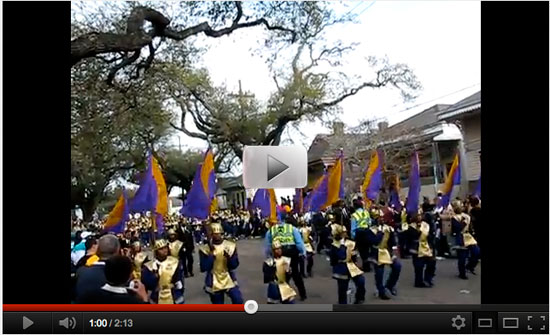 There were more than a few more bands in the Zulu parade but i'm not doing videos of all of them cause there are floats coming and beads to catch, then Indians to chase over by 2nd and Dryades, then comes Rex a few blocks over on St. Charles Avenue…and just as i get there here comes the LSU Golden Band from Tigerland, another of the finest college marching bands in the country…note the huge tuba section and what they do with their instruments when the drummers go into a cadence…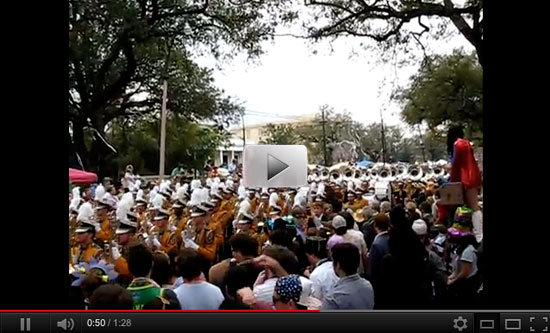 Then it's move my position a block Uptown to catch the parade right on the street and the Edna Karr High School band of New Orleans, another fine marching band from the city…check out the drum majors routine…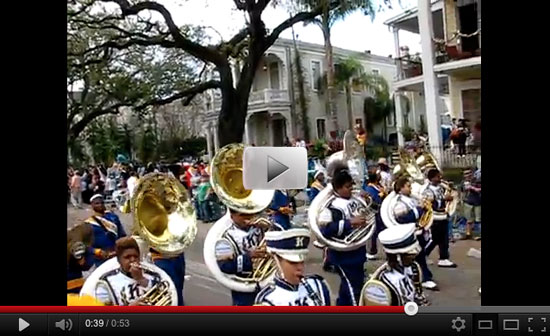 And that's it for the marching bands part of the program. Hope you got a feel for what it's like to be there on the street for the excitement, ya just can't buy entertainment like this.  Stay tuned for more madness on a Mardi Gras Day…..