……or Mardi Gras Day in New Orleans February 12, 2013(one of my nephews birthday)…..The weather had been great all weekend. We got our Krewe Of Southdowns parade in in grand style. Our group was even in the Spanish Town parade this year for the first time in 3 years so this was already a good Carnival season. The weather for Mardi Gras Day was not looking good, probably rain for a good bit of it according to the prognosticators and I don't do rain parades, especially when it's cold rain and probably a bit cooler than it was over the weekend. So I decided that after the Spanish Town parade on Saturday, that would be it for me even though I also had Tuesday off. Got up at the usual time of around 8:30am, take a shower and start stewing…what am I gonna do today if I don't go to the Mardi Gras. Turn on the computer, check the weather radar and it's not really raining anywhere though it's overcast. Check the traffic cameras in New Orleans, it's not raining and the traffic is light. Ok, the heck with this, i'm going! So it's on with the costume, paint the face, grab the backpack with water and head out the door. Yeah, i'm gonna miss Zulu and the Indians but I will see Rex, King Of Carnival. The drive down is easy, light traffic with the clouds hanging right over the trees in the swamp, kinda surreal and i'm formulating a plan the whole drive, get the agenda in the head before you hit the streets. Down into the belly of the beast and on to Baronne Street to the usual parking place at the New Orleans International School which is not quite all parked up, there's a place for me even thought the lot is pretty much full already, yeah maybe karma does work. For once I actually looked at the time, 11:45am, though time usually doesn't matter on Mardi Gras Day.  Head on in to the bathroom and run into Richard from here in BR with his gang who've just returned from the Zulu parade. They're heading into the Quarter, i'm headed Uptown at as fast a pace as I can as Rex is on the streets and on my dance card. Gotta get a picture of Rex. The crowds seem to be smaller due to the threat of rain but the hardcores are out on the street. Sure enough, a few blocks up St. Charles Avenue, there's Rex and the whole parade at a dead standstill, somebody broke down farther up the route and it's all stopped….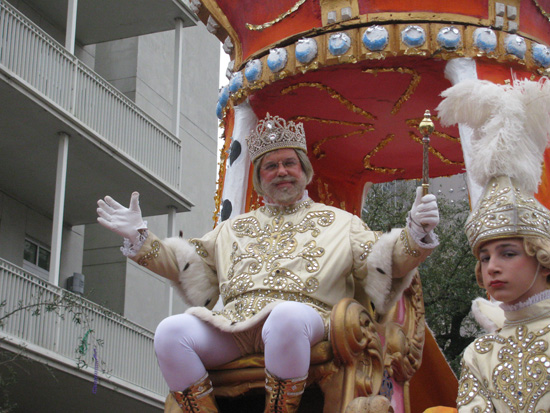 I immediately walk up to the float and grovel for doubloons from the riders in front to no avail, they have none. But there's Rex himself. I get a couple good pictures as he was more than willing to pose and looked to be having a great time. The page looks rather bored…
Head up St. Charles some more where a few dancers are going thru their routines for the crowd, the Boeuf Gras is blowing smoke out his nose and the crowd goes wild. Then I come up on the Primetime Brass band who's just hanging out in the street but soon strikes up a song. I got the whole thing, give it a listen and view….
<iframe width="420″ height="315″ src="http://www.youtube.com/embed/xhgnTwtWCOk" frameborder="0″ allowfullscreen></iframe>
These guys were a lot of fun and were excited when I told them to look for it on YouTube.
I've still got the agenda previously spoken about in my head…..and that was to get to 2525 St. Charles Avenue and watch the parade from there. I'd been by there a couple years ago with Melanie and got a good shot of Rex from there so go check out that post, it ties into this one. After i'd posted that short video, I got a response from Rosa Flores who was a reporter for one of the tv stations in New Orleans explaining exactly what the significance of this place is in the Rex Carnival mythology.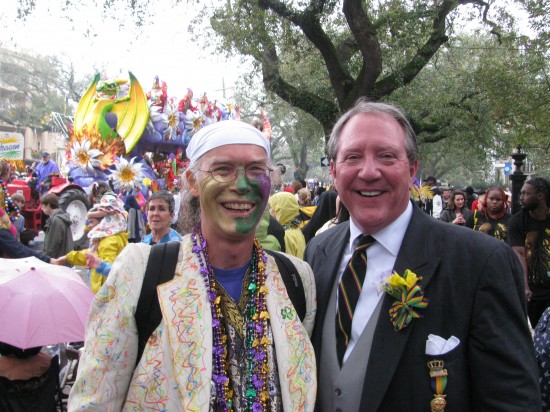 The main thing on that agenda that day was to meet and speak with a former Rex himself. The man standing next to me is Mr. Billy Grace. He was Rex a few years ago as well as being Captain of the Krewe also. Note his King pin and Rex dangle on his suit, nice Carnival baubles for sure. Now for some backstory. This past September we had another hurricane and I have a designated evacuee. We weather the storm and a few days later I return her to New Orleans. She sends me back with a bag of books for another friend of ours to read and says I should read the Nine Lives book. It's a story of the lives of nine people from all walks of life before, during and after Katrina. I read it in a day and a half. One of the Nine Lives in the story is Mr. Grace(I highly recommend this book tho it does have a couple of inaccuracies but not enough to detract from the story). My eyes opened wide and that sent me looking back at the pictures i'd taken that Mardi Gras Day a couple years ago when I had Melanie with me(all documented in a previous post here). Sure enough, there he is standing on a ladder next to the King's Float that day, the King pin made me know this was the guy. The parade started rolling shortly after I got to where I was going, this being as far Uptown as I planned on going that day. He comes out on the street and I introduce myself as a Captain of the Flambeaux in our Krewe Of Southdowns in Baton Rouge and give him a handful of our parade doubloons from this year. We had a great talk about Mardi Gras for a few minutes. He seemed to be more excited about the fact that he was Captain of  Rex rather than being Rex himself, guess it was less stress being Captain. He's a fine gentleman and a great representative of Mardi Gras. They have a big party going on in the house, the parade is rolling, arms are outstretched and everybody's yelling for throws. The electricity is in the air. This is a great spot to see the parade at as all the float riders know this is the Rex House they're rolling in front of so the throws are literally dumped on the crowd here…and for some of us parade junkies, this is IT. Trading throws for what you have and they don't, giving stuff to the kids, talking with everybody, too much fun is had.
Here's the Guggenmusik Kamikazee Brass Band from Switzerland. They were a lot of fun also…
<iframe width="420″ height="315″ src="http://www.youtube.com/embed/gRmDwNGCW_U" frameborder="0″ allowfullscreen></iframe>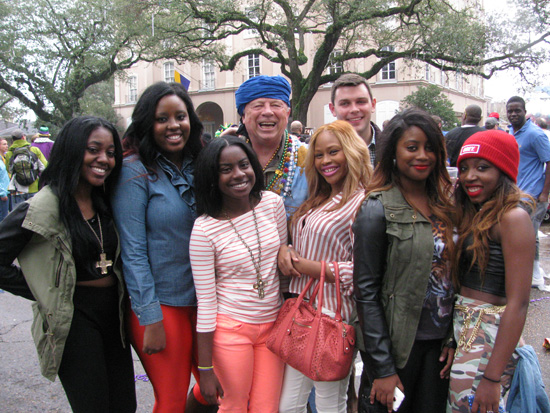 I'm not sure who the guy in the blue turban is but all the young ladies in the picture insisted I take a picture of them with him. We spoke Mardi Gras for a few minutes but I neglected to ask who he is….this is after Rex had passed, the truck parades were rolling and I was headed back Downtown to Canal Street to see Rex again after a quick pitstop at the school……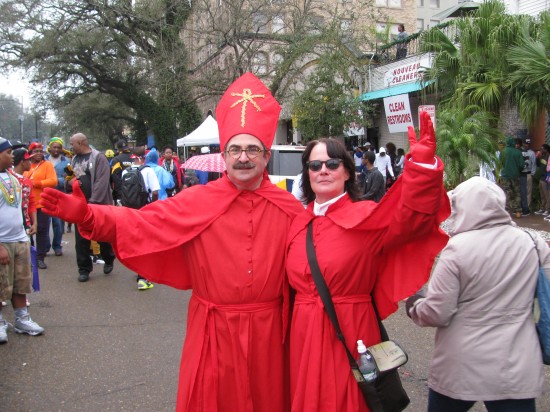 One of the Cardinals campaigning for Pope on St. Charles Avenue, this years Carnival falling between the time the old Pope had retired and before the new one elected……there were numerous "clergy" on the streets that day….New Orleans is a Catholic city as is pretty much all of South Louisiana…..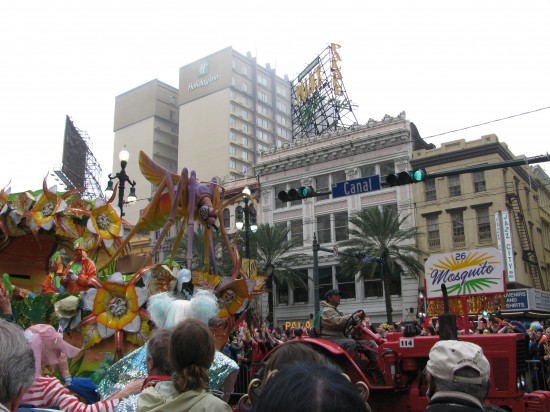 Rex float #26, Mosquito, on Canal Street. This years Rex theme was All Creatures Great and Small.  Guess you could call it the state insect, the ones in my yard are almost this big. I see most of the Rex parade again after seeing all of it on St. Charles Avenue, the barricades open and the crowd makes a move across Canal Street into the French Quarter and I join in…..
The Baton Rouge Krewe is starting to meet up at the place where the Society of St. Ann meets with the Storyville Stompers Brass Band. It's been overcast all day with just a touch of rain earlier. Just as the band strikes up the Louisiana state song, You Are My Sunshine, the sun breaks thru…………and we all head toward Jackson Square in that funky second line parade to the river………..
<iframe width="420″ height="315″ src="http://www.youtube.com/embed/bUsaxUmv2sM" frameborder="0″ allowfullscreen></iframe>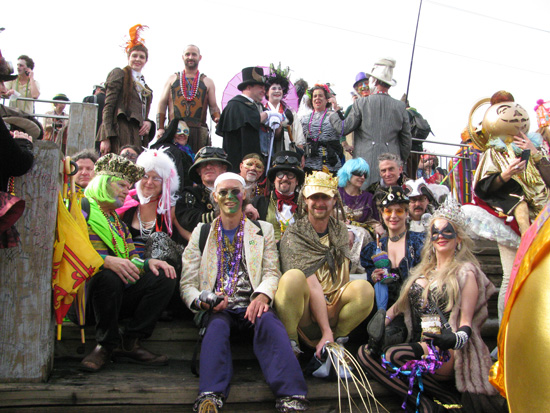 The family portrait for this year. There's time travelers, barbarians, queens, kings and assorted other beaded freaks.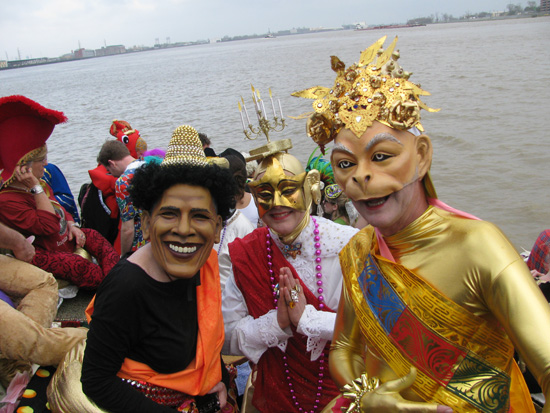 More assorted revelers.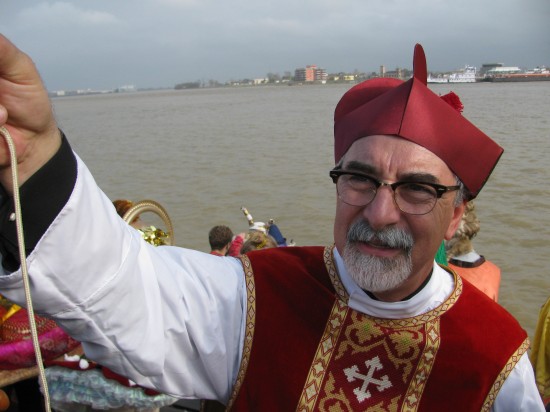 Another cardinal campaigning for Pope. They were everywhere….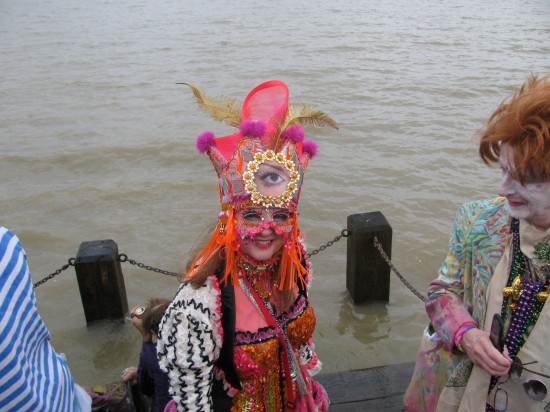 She sees much more than us with the third eye……..
After passing a while down by the river and doing our various rituals there, it's time to head up for a break in the action in the Lower Pontalba building….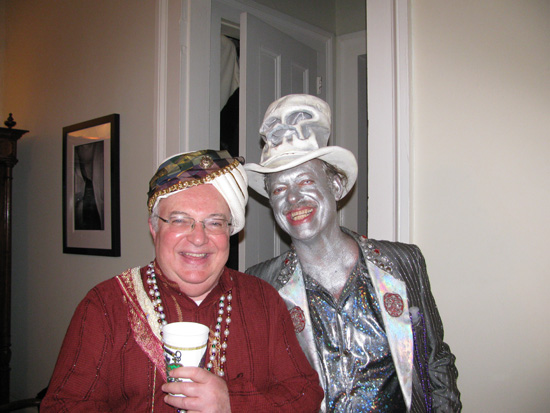 Kevin, our host and Terry with his very funky skeleton hat that actually lights up…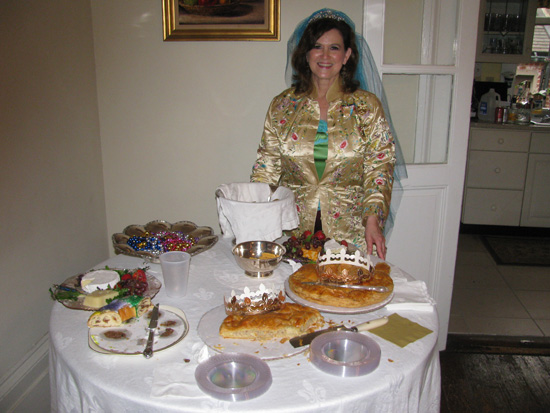 Haydee, our hostess, with her spread at the table. The traditional almond spread King Cake at 3 o'clock was delicious and I think we went thru about 4 or 5 of them, the crowd was hungry. I did find out where she got them, from a bakery called Croissaint D'or. I must make a stop by there one day. Since I do really crazy things, like not eat on Mardi Gras Day(it's that living on excitement thing), the King Cake was the first thing I had to eat all day. Skip hadn't eaten that day either so we both broke our fasts with what he called the sacraments, I agreed………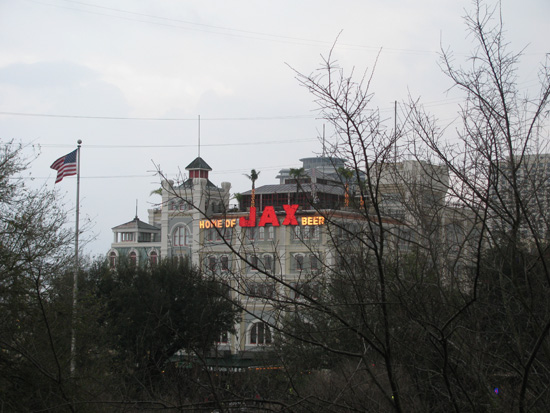 One view from the third floor balcony is across Jackson Square towards the river and the former Jax brewery. I'm glad they kept the sign. Jax hasn't been brewed since the mid-late 1970s. The building is now a shopping mall.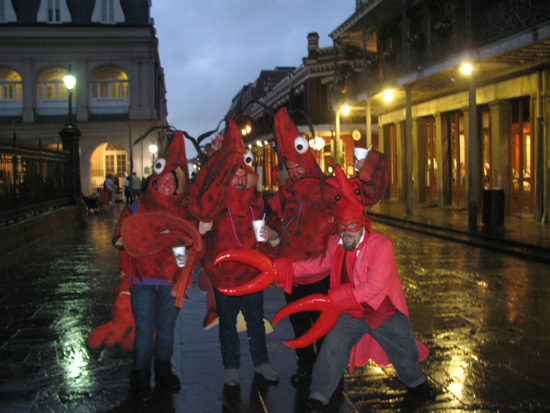 It's getting late on in the afternoon and everyone heads out their own directions following the Mardi Gras spirit wherever it leads them. I get down on the street and run into these guys again(see previous posts). Great costumes are to be worn til they wear out…..and you can't ever have too many crawfish…..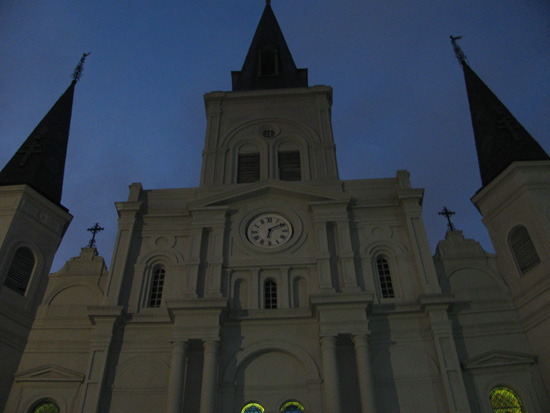 The clock on St. Louis Cathedral on Jackson Square says it's 6:10. The sun's going down and it's time for Bill to head back across the Quarter, Canal Street, into the Central Business District and to the car.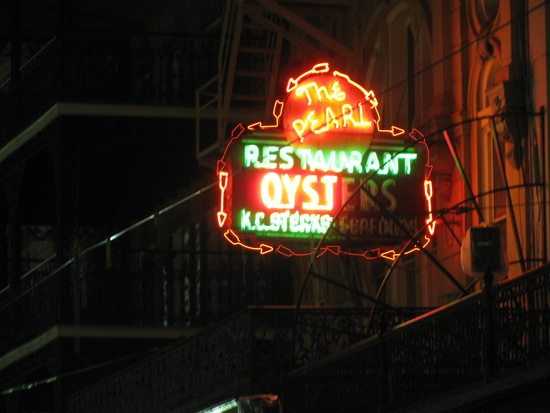 ….and as I get ready to cross Canal Street, I see The Pearl sign(almost) all lit up, gotta get a picture of that for your neon sighting for the post…………
"Oh the Mardi Gras, the Mardi Gras is fine/Oh The Mardi Gras, the Mardi Gras is fine/You can have a good time  and you don't need a single dime"- Dave Bartholomew "Carnival Day"……the total expenditure for the day was all of twenty dollars and that was to park(with all day bathroom access too)…..and it was a good time, glad I got it together to make the greatest free show on Earth…….Hope y'all got to enjoy living a little vicariously and I guarantee your legs didn't hurt after reading this either…..