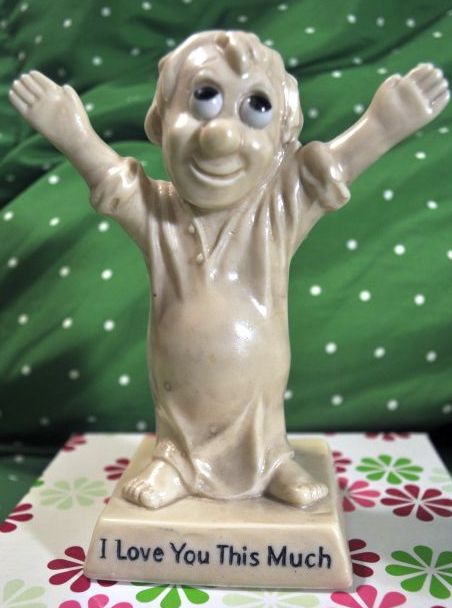 There must be thousands of varieties of these kitsch-hippie-inspired figurines from W&R Berries Co. How many people were gifted one of these with the sentiment of "World's Greatest Grandpa"? Judging from how many of these things I see out at the sales, there sure are a lot of "World's Greatest" folks out there.
Anyway, I have a number of them, some I think from my actual family and some I've picked up at various places over the years. You can't really avoid them. Here are some Romance-Inspired ones just in time for (St.) Valentine's Day. There are tons more, but these are the ones in my collection. (Check out Parts 2 & 3 to see the others.)
Ah yes, "I love you this much" as in, "I love you enough to buy you a kind of creepy figurine from the gift shop." I guess this guy also loves you enough to show off his beer belly while wearing a nightgown. :) This one's dated 1970. I think I bought him back when I was in high school. Somebody loved somebody "this much," yet nobody loved this figurine. So I bought it. I'm sentimental like that.