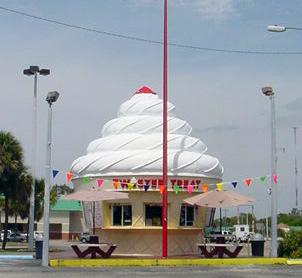 Another North Ft. Myers, Florida icon!
Freshly painted for the 2010 season, cherry and all, this wonderful waffle-cone, soft-serve-ice-cream-shaped hut was the VERY FIRST, Original Twistee Treat hut ever built. About 90 were manufactured over the years; fewer than half remain, mostly in Florida.
The design was created by Robert G. Skiller, who opened 23 units around Florida, starting with this one in North Fort Myers in 1983. The company filed for bankruptcy in early 1990.
They started with 6 soft-serve flavors, directly competing with Dairy Queen, but this one now carries about 26. There is no grill or indoor seating, and it sits on the edge of a depressing strip mall parking lot, hard by a noisy 4-lane thoroughfare. It's a must-see place for our guests and we come here as often as our diets will allow!
The very nice Indian family owners run it like something out of an old Carol Burnett/Tim Conway luncheonette skit. You MUST place your order at the right-hand window. You then MUST proceed 3 feet to the left-hand window to receive your cone, even if you are the only customer (often the case), and he is the only worker (ditto).
The ice cream is fabulous, the auto-fume-soaked ambiance is somehow just right, and we always leave a tip.