I like all rabbits, but Lionheads and Angoras are my favorites. These Angoras are prize winners: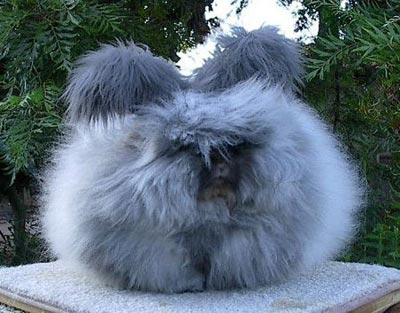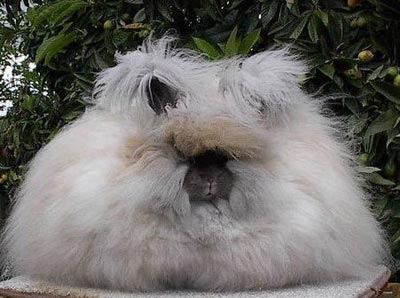 I lerv their pissed lamb expressions: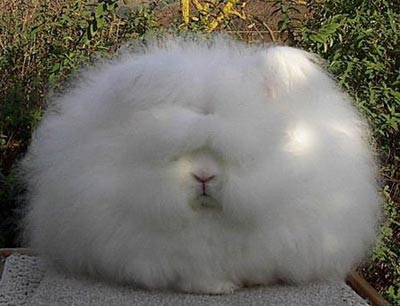 Just to confuse things, there are Angora Rabbits and Angora Goats. If your sweater is made of Angora, it's from a rabbit and it sheds. Fiber from Angora Goats is called Mohair.
The best quality Angora fiber comes from hand-plucked French Angora Rabbits, but less expensive, lower quality fur from China, Japan and Korea dominates the world market and is shorn rather than plucked.
It takes a French Angora about 3 months to grow a full coat. The rabbit's hormones signal when it's time to shed its fur, much like snakes know when to discard their skin. The rabbit is bald for awhile, but shedding and plucking doesn't hurt.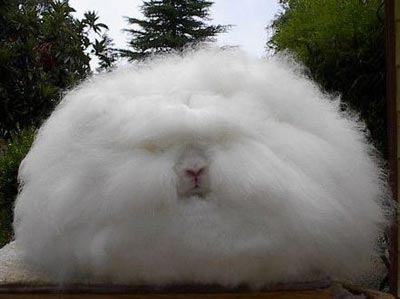 Apart from its beauty, Angora wool is 7 to 8 times warmer than other raw wools and is said to possess therapeutic qualities. French aristocrats or their doctors allegedly recommend Angora garments for relief of asthma, bronchitis and rheumatism. That's assuming you don't have an allergy to wool.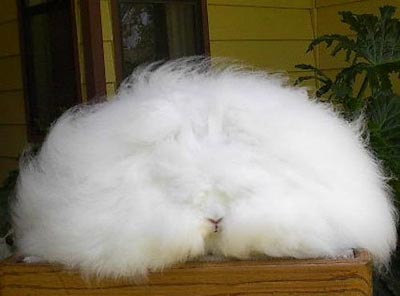 "The other day when I was walking through the woods, I saw a rabbit standing in front of a candle making shadows of people on a tree." ~Stephen Wright