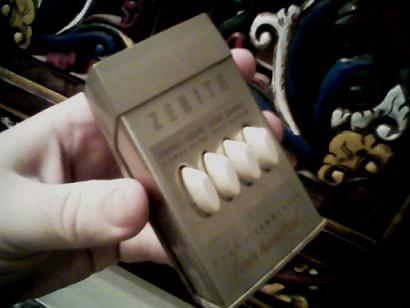 In contrast to the hulking RCA Victor remotes posted here in recent weeks, the Zenith Space Commander Four Hundred is a real flyweight. Just over two inches wide and four inches long, this shrimpy hunk of brass n' plastic has a secret. Yes, this wee lil' sucker delivers the satisfying click you remember, Allee — a noisy "ka-chank" whenever you dare to depress any of its four buttons: Channel Lower, Volume On-Off, Sound Mute and Channel Higher.
I can't for the life of me figure out how you'd raise or lower the volume on this wonder given those limited selections.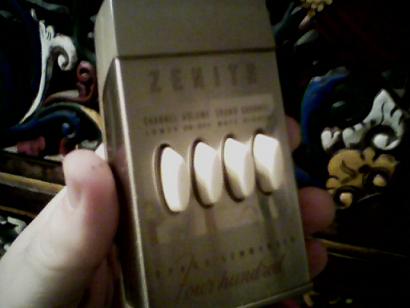 It cuts a dashing figure from the side, don't you think?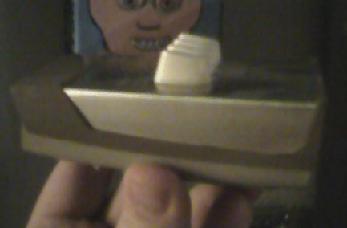 Kind of makes you wonder how Zenith's remotes went from something this charming to something this awful by the 1980's: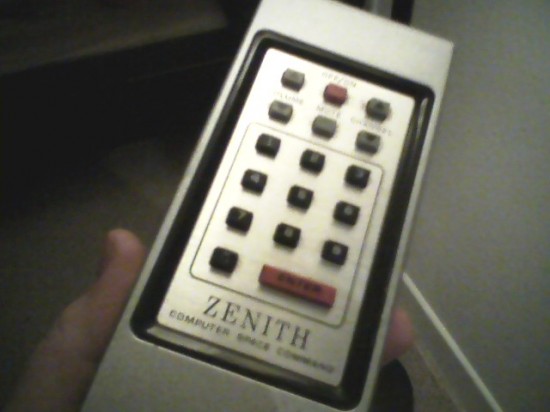 Note the change in title — the noble "Space Commander Four Hundred" on the 60's model to to the ever-so-with-it 80's upgrade "Computer Space Command."
If computers are so great, why did the 80's Zenith remotes dwarf their predecessors? I thought technology was s'posed to make things tinier over time. All it made smaller were the boring buttons… none of which make a peep when you mash 'em down. Dullsville!