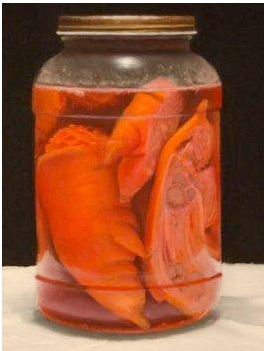 From WBVT News, Rock Hill, S.C.:
ROCK HILL – Police in Rock Hill are investigating after they say a man eating pig's feet in bed was assaulted.
Officers with the Rock Hill Police Department were called out to a home along Twitty Court on Saturday, to the report of a man stabbed.
When officers arrived they spoke to the suspect, whose name has not been released, who says she was sitting in bed with Tommy Barber, 50, eating pig's feet.
While they were eating, the suspect told police the knife accidentally cut Barber, resulting in a deep cut on his arm.
Barber was unable to give officers a statement because he was highly intoxicated, the police report stated.
The suspect was charged with Assault and Battery of a High and Aggravated Nature. Police are still investigating the case.
link here: http://rockhill.wbtv.com/content/woman-cuts-drunk-man-while-eating-pigs-feet-bed-police-say