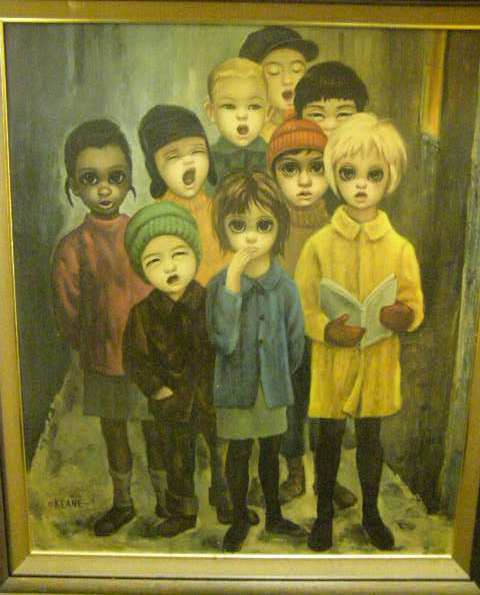 KEANE… "PEACE ON EARTH"…
This is a very recognizable print from Margaret Keane, signed Keane '61…titled "Peace on Earth"..
It is very colorful and as far as size, it's the largest 33″ x 28″ Keane print that I have in my little collection. I loved them in the 1960's, and bought a few???.. I've since found a few more, just can't resist them.
The J L Hudson Department store in downtown Detroit in the 60's had a artist supply shop on the 4th floor, and they carried the Keane Big-Eyed Kids. They were huge, I would love to know how many they sold.
I found this Keane print for cheap, in one of those Antique Malls that goes on for days, it was hanging over the door in a room somewhere way in the back. The mall was shocked that I found it…and then they reluctantly had to find a ladder to get it down…and then there was that uncomfortable moment when i knew that they knew that I knew what it was.. I was thankful that it was priced…or we might have lost that "Peace on Earth" feeling…smile.