More Barbie clones for your entertainment pleasure: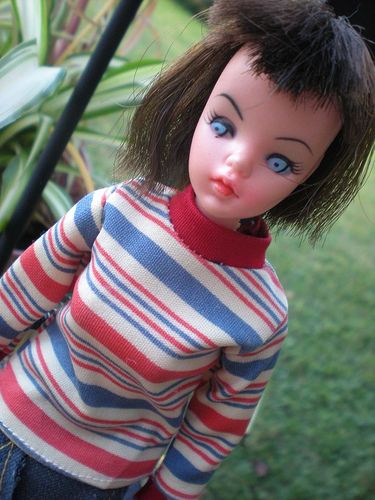 This little doll is the same as my cracked-out Beauty Queen in the previous post, though she doesn't have the messed up lipstick.  Her hair has been chopped, and her lip-color has bled into her face, making her look like she drank too much cherry kool-aid and didn't wash her face afterward.  Probably made by Valentine.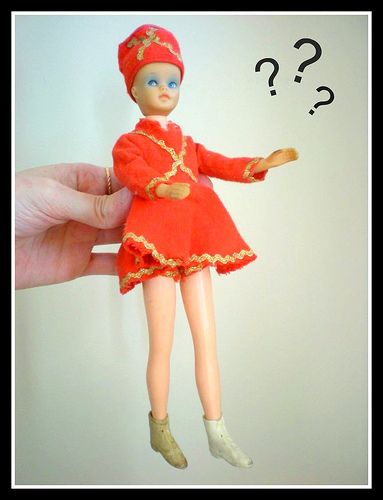 This doll is a COMPLETE mystery.  None of my doll friends have been able to help me figure out who she is.  Super-cheap majorette doll has a Skipper-like face and a flat chest, but she has a tall body like Barbie…  She is marked "A.E." but that could be a mark for any number of doll companies.  She also has more surprises in store…
Weird little face… but wait till you see when you take off her hat…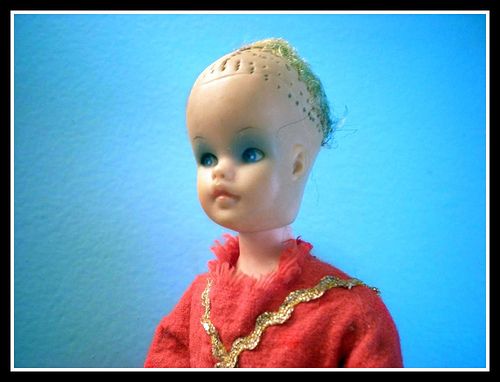 AHHH!!!!  No hair!!  There are a couple of theories for this.  Either she was a cheapo doll that someone bought to make a majorette costume for.. and thus sheared her locks so that her hat would fit.. OR.. she was a cheapo doll that some other doll company made to sell as Majorette dolls and cut the hair for that reason.  I don't know.  I can't tell if the dress/hat is homemade or not.  She is really weird and I almost passed up on buying her, but in the end, she came home with me.