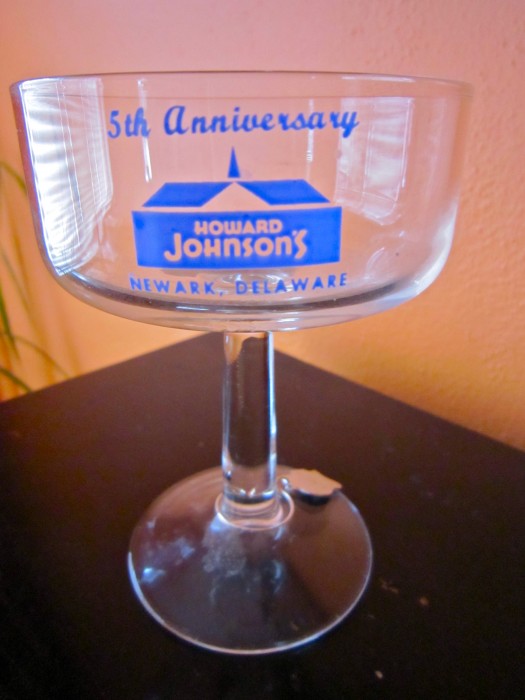 This is one of what used to be a pair of HoJo's champagne glasses that I found on one of my thrifting adventures when RetroRoadhusband and I lived in Delaware. When I moved there in 2000 there were at least 3 Howard Johnson's restaurants still in operation, however now years later they've all been changed to other restaurants.
According to the great Howard Johnson's resource HoJoLand.com, the Newark DE Howard Johnson's restaurant was at exit 1 off of 95 at Glasgow Road in Newark DE. I can't seem to find out when the restaurant opened, but I think it's pretty cool that they had glassware made up to celebrate their 5 year anniversary!
I have very fond memories of Howard Johnson's as it is a Massachusetts based chain that figured big in my childhood, from stopping on the Mass Pike on the way home from Girl Scout camp for a meal, to the "all you can eat "clam strip nights, to my favorite ice cream flavor ever, HoJo's mocha chip. My grandmother would often buy pints of their ice cream as well as frozen macaroni and cheese, and I'm a big fan of their color scheme.