This year's Chinese New Year is the Year of the Rabbit, and the first day is February 3.  And who doesn't love a rabbit?
I've read a little bit on the internet about this, and I think it's fascinating.
Apparently, if you were born in the Year of the Rabbit, you are blessed with many virtues, and most are compatible with those born in the years of the Sheep, Pig, and Dog.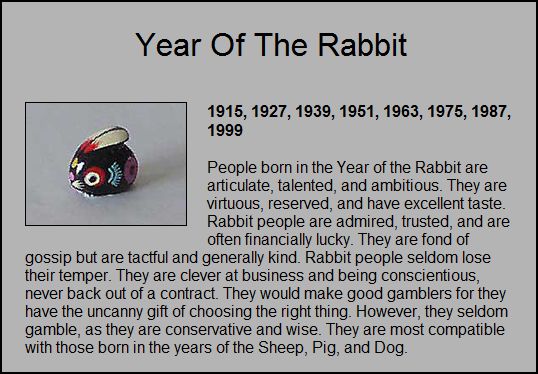 I don't know if in the Lunar Zodiac Animal Farm, some are more equal than others, but the Chinese have some traditional idioms for the rabbit.
"Shou Zhu Dai Tu" for example, means to wait by a tree which a rabbit rushed into and died, hoping to get another prey with the same good luck.
"Jiao Tu San Ku" simply means a canny rabbit always has several holes, making it hard for predators to track it down.
I'd rather see any rabbit run down it's hole than into a tree, but that's just me.
Here a group of people seem to be running towards what looks like a giant rabbit that they might grow in China.
The rabbit doesn't look very excited, but maybe they all have carrots in their pockets, and they're going to surprise it.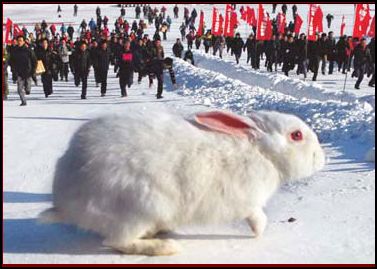 The picture reminds me a little of the old Elmer Fudd and Bugs Bunny cartoons when I was a kid.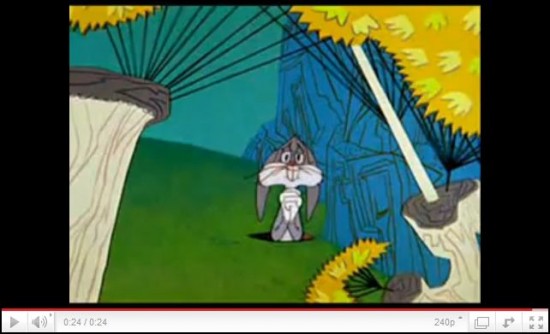 http://www.youtube.com/watch?v=Yxiv3CBMS4M
And while China is supposed to be a communist economy, there are signs of creative products being marketed for the Year of the Rabbit.
I love the lamps that are being sold now to commemorate the year.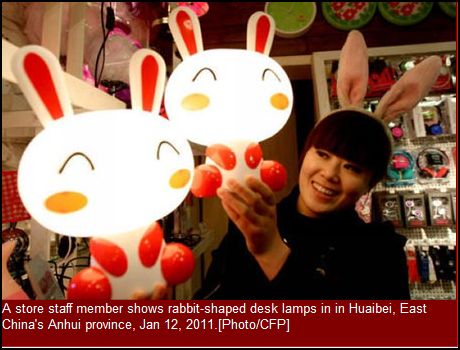 This young lady seems to be petting her mp3 rabbit speaker apparatus.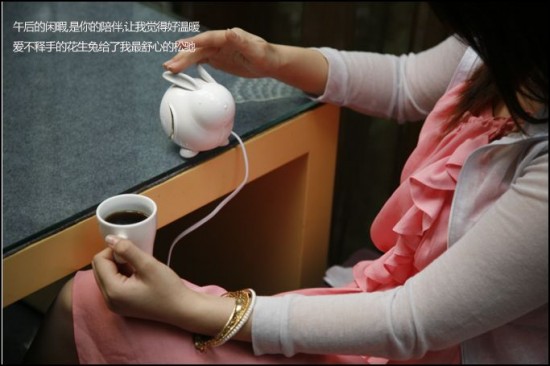 Here in America, we name motels after them.  https://www.awmok.com/?s=big+bunny+motel
For a great perspective, and some interesting pictures from China, take a look at "China Daily's" special report on the Year of the Rabbit.  http://www.chinadaily.com.cn/china/2011-01/27/content_11928764.htm