A while back our friend, Denny sent me a surprise. Since it was a surprise I didn't want to inquire "Hey where's my surprise?" and when he didn't hear from me thanking him, he assumed I hated it. Eventually we overcame these silly phobias and mutually revealed that the package had not arrived. We lamented it's terrible fate and wondered what could have happened. Well last night it DID arrive but not without a little stop at Homeland Security!
It had a label that told it had been opened in Denver (probably at the airport all the conspiracy theorists go nuts over – the one with signs from the Illuminati)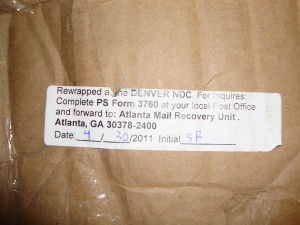 Nice job wrapping it back up guys! F for effort!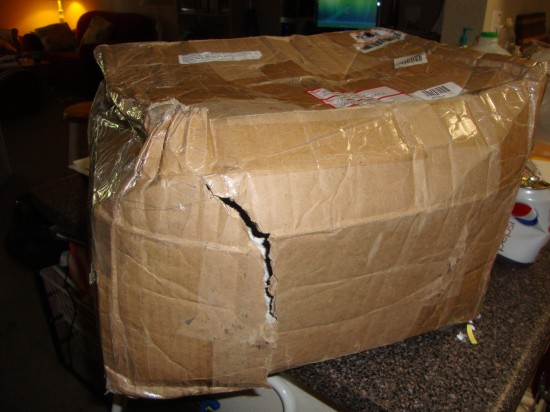 But I can see why they would be suspicious. It was obviously a suitcase full of explosives targeting elderly women in the West.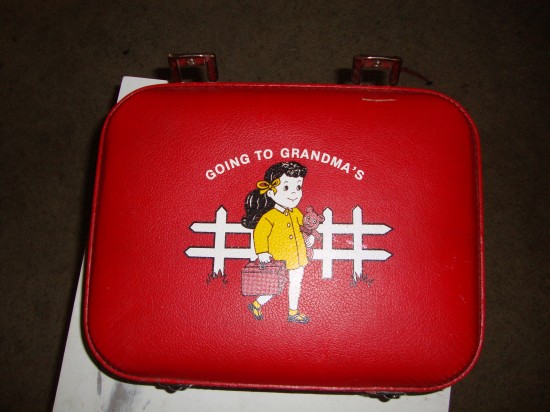 A look inside revealed it's sinister contents… It was a Kitsch BOMB!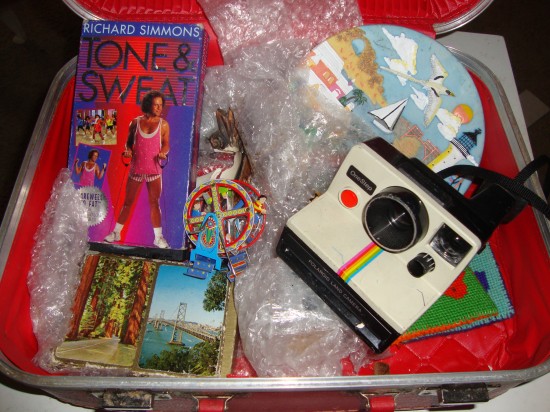 Filled with items from the past. This Kitsch bomb was designed to remind it's victims of a time when we didn't have a Homeland Security. A time when airplanes did not pack people in like sardines but instead had lounges where you could play that nifty new video game, Pong. When you did not have to arrive three hours ahead of time to go through security, remove your shoes and get felt up to board your plane, when loved ones could see you off at the gate. When people came to this country because they loved it and wanted to make a life here, not to destroy it. Dangerous items indeed! Thank God for Homeland Security.
Thank you Denny I LOVE it!