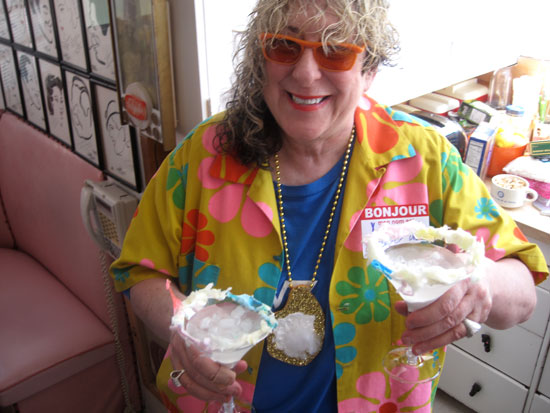 It's really completely nuts for me even to be leaving my desk let alone fly east to the Fluff Festival this coming week, an extravaganza honoring the creation of the marshmallow foodstuff created in Somerville, MA. where the annual festival takes place. But I have official duties there and made arrangements to attend long ago, before I decided to jump off the cliff and perform live in a few weeks for the 1st time since jumping off my own stage in the middle of a song 37 years ago.
I was going to the Fluff Festival not just for the foodstuff but for the kitsch of the event itself. Those who choose to honor Fluff attend the festival in theme attire, dine only on those substances made with Fluff, sing songs about Fluff, etc. I didn't expect to be in full Fluff kitsch mode until I arrived there next week but, lo and behold, I just saw this:


Evidently, as I'm chained to my desk in LA, I'm supposed to be judging a fashion show in Cambridge, MA in about 6 hours. Obviously that's not happening. Obviously it was never supposed to happen. Obviously it's a very kitschy moment when one is booked at an event they had no idea they were supposed to be at, and it's happening thousands of miles away in only a few hours.
I will be there in excellent fashion NEXT Friday. Until then, thank you for the pre- Fluff Fest flubb. These kinds of occurrences only whet my appetite for even larger doses of kitsch upon landing.